DPP lawmaker steps down after hit-and-run accident
Democratic Progressive Party (DPP) Legislator Chien Chao-tung (簡肇棟) yesterday tendered his resignation and withdrew from January's legislative elections in Greater Taichung after being released on bail for a hit-and-run accident in which a man died.
In a hastily called press conference after being released on NT$200,000 bail, Chien denied intentionally leaving the scene of an accident, but announced he was stepping down as a legislator and pulling out of the election.
He said he thought he had run over an object, not a person.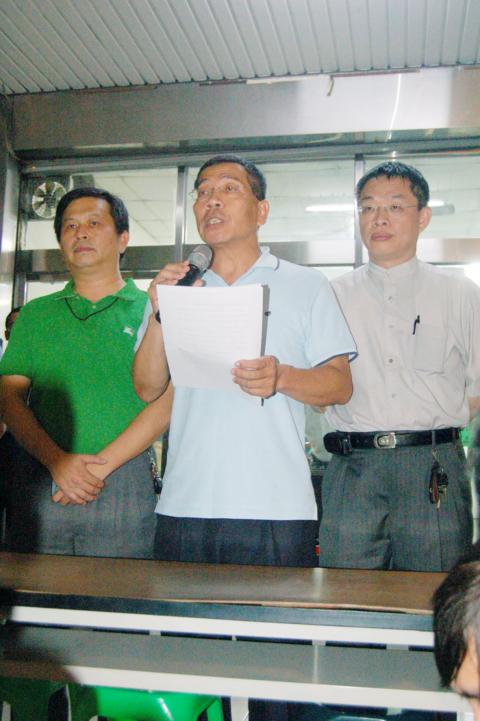 Democratic Progressive Party Legislator Chien Chao-tong, center, yesterday announces his resignation in Greater Taichung after being accused of involvement in a hit-and-run car accident.
Photo: Chang Hsieh-sheng, Taipei Times
Chien, 56, said he did not know he had run over and killed the man, surnamed Chen (陳), until he was informed by police yesterday morning.
He said he had extended his condolences to Chen's family and that he would face up to the ensuing investigation.
DPP officials said the party was sorry to learn of the accident and extended its condolences to the victim and his family, and it would conduct its own investigation as well.
A replacement candidate for Chien would be announced later, the party said.
Chien was driving in Dali District (大里), Greater Taichung, on Saturday night when he ran over a man in his 50s at 11:48pm, Taichung City police chief Tiao Cheng-sheng (刁建生) said yesterday.
The victim was sent to hospital before being pronounced dead from severe injuries a short time later.
Police identified Chien through surveillance video, Tiao said, adding that Chien had reported to the police and admitted he was driving the car at the time of the accident.
Police said a witness reported that the victim appeared drunk and was hit by a car after falling onto the road.
Taichung City Police Bureau's Traffic Police Corps declined to discuss specific details of the accident because its investigation was ongoing.
Chien, who had been seeking re-election, was running against Chinese Nationalist Party (KMT) candidate Cheng Li-wun (鄭麗文) in the seventh district of Taiping (太平) and Dali (大里).
A physician by training, Chien defeated the KMT's Yu Wen-chin (余文欽) in Taichung County in a by-election for the legislative seat in January last year.
He had lost in the same district in the 2008 legislative elections to the KMT's Chiang Lien-fu (江連福). Chiang lost the seat in October 2009 for vote-buying.
Chien also served as Dali City mayor in what was then Taichung County from 1998 to 2002 and a previous term as a DPP legislator from 2002 to 2005.
Comments will be moderated. Keep comments relevant to the article. Remarks containing abusive and obscene language, personal attacks of any kind or promotion will be removed and the user banned. Final decision will be at the discretion of the Taipei Times.