INTERVIEW: Outgoing AEC deputy minister talks about the impact of Japan's crisis
Atomic Energy Council (AEC) Deputy Minister Shieh Der-jhy (謝得志), whose resignation from the council takes effect on Sept. 1, says being an administrative officer generates many feelings and that after his announcement that he is to leave the post, he feels as though a heavy burden has been lifted off his shoulders.
"The Fukushima Dai-ichi nuclear [power] crisis in Japan shook me very badly," Shieh said, adding that it was after the incident in March when he had first thought about tendering his resignation.
"[During the crisis], I got up at 3am every day to prepare data and so I could explain to people and reassure them. I only wanted the legislators to give me a chance to explain the situation, but they arbitrarily said I was lying. That feeling isn't great. You kind of feel like all your preparation was for nothing," Shieh said in an interview with the Liberty Times (the Taipei Times' sister paper) on Thursday.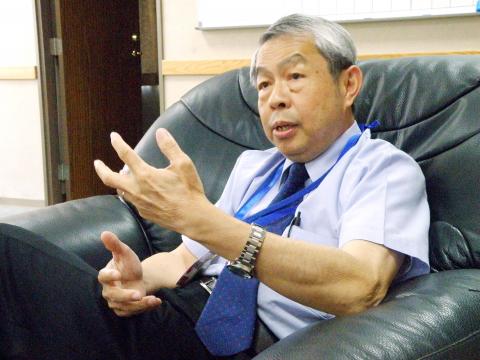 Atomic Energy Council Deputy Minister Shieh Der-jhy gestures during an interview on Thursday.
Photo: Tang Chia-ling, Taipei Times
During a question-and-answer session in the legislature during the crisis, Chinese Nationalist Party (KMT) Legislator Lee Ching-hua (李慶華) repeatedly asked Shieh why the evacuation radius in Taiwan was only 5km and whether it should be enlarged. Lee also said that the council did not know what it was talking about and was only giving the good news. Shieh repeatedly slapped the podium during the comments and asked that Lee let him finish so he could give a detailed explanation.
"Is an administrative officer supposed to stand in the Legislative Yuan only to be insulted and railed at? If so, where's the dignity of being a government official?" Shieh said.
From March until this month, Shieh repeatedly tendered his resignation verbally and frankly admitted that the Fourth Nuclear Power Plant Safety Oversight Committee meeting last week had been the last straw. The Fourth Nuclear Power Plant in Gongliao District (貢寮), New Taipei City (新北市), has been under construction since 1997.
Several legislators had asked to attend the meeting and after consulting committee members, Shieh agreed that the lawmakers could participate. Shieh then went away on business and gave his aides instructions to notify the legislators' offices. However, the aides failed to notify some of the legislators, causing them to express their discontent to Shieh.
I really sympathize with personnel at Taiwan Power Corp (Taipower), who are willing to take responsibility for the construction of the Fourth Nuclear Power Plant and who usually take the lion's share of the blame, Shieh said.
"I don't like to hide behind others and let them take the heat," Shieh said, adding that it was obvious that each organization involved in the construction of the plant was passing the burden of responsibility around.
Although no construction process is ever 100 percent safe, the council and Taipower should show complete resolve in executing things as safely as possible, Shieh said, adding that an administrative officer should be prepared to act responsibly and be accountable for their actions.
You should think more about what you are doing and not just think about where your responsibilities end, Shieh said.
It is wrong to push all of the responsibility for people's fears surrounding the Fourth Nuclear Power Plant all on Taipower, Shieh said, adding that only when all sides are willing to shoulder the burden can the holes be plugged.
Furthermore, if you want the country to run smoothly then there needs to be an oversight system for administrative officers; their performance should not just be based on scores, Shieh said.
Not only do they need to have the ability to "propose a view, persuade colleagues to follow that view, the ability to manage people and good communication skills," administrative officers need to have "an all-encompassing mind," Shieh said.
Administrators that want people to feel safe need to empathize with the public; they need to go out and tell people when they should feel safe, when they should worry, or all a nuclear power plant is reduced to is technical matters, he said, adding: "Only by empathizing can you achieve sincere actions, otherwise its phony."
Shieh said he felt he had done his best during his three years with the council.
"You get the job when you get it and step down when you should, I feel at peace with it," Shieh said, adding that the main motivation behind his resignation was the difficulty he had reconciling his ideas on how an administrative officer should work, his personal ideals and the ideals of the council.
Shieh will return to the Nuclear Research Center after his resignation.
TRANSLATED BY JAKE CHUNG, STAFF WRITER
Comments will be moderated. Keep comments relevant to the article. Remarks containing abusive and obscene language, personal attacks of any kind or promotion will be removed and the user banned. Final decision will be at the discretion of the Taipei Times.