Taoyuan airport readies service for business travelers
The nation's entrepreneurs are being invited to sample the services on offer at the Taiwan Taoyuan International Airport's business traveler center, which is scheduled to begin trial operations next month.
State-run Taoyuan International Airport Corp (TIAC) said yesterday that many airports throughout Asia, including those in Singapore, Hong Kong, South Korea and Thailand, offer a paid service designed specifically for business travelers.
Based on this business model, TIAC said the soon-to-be-launched business travel center would be located between the airport's first and second terminals, and the three-story facility would be equipped with its own passages to the terminals.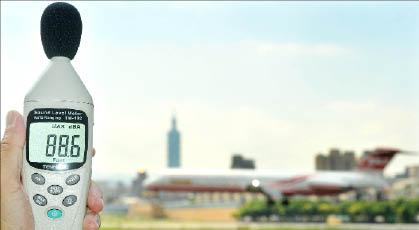 A decibel meter shows a peak reading of 88.6 yesterday next to Taipei International Airport (Songshan).
Photo: Chien Jung-fong, Taipei Times
While regular international flight passengers are told to arrive at the airport two hours before boarding to allow time to check in their luggage and go through security screening, TIAC said travelers paying to use the business travel center only need to be at the airport about 40 minutes before boarding.
They can drive directly into the airport's restricted zone and park their vehicles right in front of the center.
A separate group of customs, inspection and quarantine officials will be stationed on the ground floor of the center to expedite the inspection process and customers will be assisted by a personal secretary, who will accompany them to the boarding gate.
The center has a multimedia conference room, as well as 16 segregated areas allowing business travelers to enjoy their meals without any disruption. It is also equipped with a spa, sauna and gymnasium. Those requesting massages or hair cuts and styling will have to pay an additional fee and make an appointment in advance.
TIAC said the one-time service charge is NT$8,000 once the center officially opens in October. Those wishing to use the services at the business travel center need to make appointments three days before departure.
Meanwhile, Taipei International Airport (Songshan) might finish construction of an independent terminal to service users of private jet services after the Lunar New Year holidays next year.
The airport said that entrepreneurs and businesspeople prefer to fly in private jets to Songshan because of its location in Taipei and its close proximity to Neihu Technology Park, therefore saving a lot of time for business travelers.
Statistics from the Taipei Aviation Office showed a total of 376 private jets landed and departed from the airport between January and last month, up 100 percent from the same time last year.
In addition to an independent customs facility and a multimedia conference room, the airport said the terminal would have its own airport ramp and aircraft depot.
In related news, construction of the Operations Control Center for the Airport Rail will soon begin after the equipment begins arriving in October, the Bureau of High Speed Rail said yesterday.
The bureau said the control center would be equipped with a supervisory control and data acquisition system, which help detects earthquakes and other forms of natural disasters.
Comments will be moderated. Keep comments relevant to the article. Remarks containing abusive and obscene language, personal attacks of any kind or promotion will be removed and the user banned. Final decision will be at the discretion of the Taipei Times.