Farming activists say Wu 'insincere'
ROSE-COLORED LENSES: Wu Den-yih reportedly told activists at a meeting he would give himself a 95 percent rating for his handling of the land expropriation issue
Farmers' rights activists expressed disappointment after a meeting with Premier Wu Den-yih (吳敦義) yesterday afternoon, during which the two sides failed to reach a consensus on a dispute over the expropriation of farmland.
"If you cannot solve the problem, there's no need to try to appease angry farmers," Taiwan Rural Front spokeswoman Tsai Pei-hui (蔡培慧) told reporters after walking out of the Executive Yuan. "The current Land Expropriation Act (土地徵收條例) has become a tool for land developers and speculators."
In November last year, both the premier and Minister of the Interior Jiang Yi-huah (江宜樺) promised farmers and farmers' rights advocates that the process to revise the act would at the very least begin during the legislative session which ended last month, she said.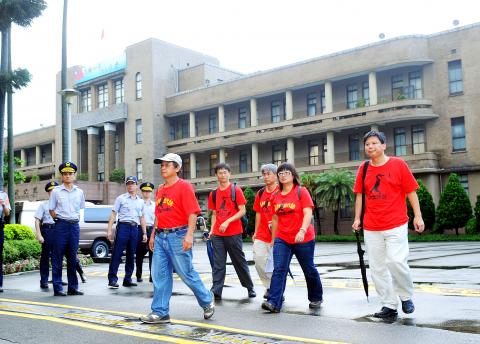 Representatives from civic group the Taiwan Rural Front leave the Executive Yuan in Taipei after meeting with Premier Wu Den-yih yesterday.
Photo: Wang Min-wei, Taipei Times
That promise has not been fulfilled, Tsai said.
"Thousands of farmers and their supporters will take their anger to the streets on Saturday and Wu so urgently wanted to meet us today [yesterday]. I really doubt his motives," she said.
"What we're hoping to change is the land expropriation system, which is unjust, while the premier only cares about isolated cases," said Liao Pen-chuan (廖本全), an associate professor at National Taipei University's Department of Real Estate and Built Environment.
Although every individual is important, "if the law is not amended, the same problem will happen over and over again," Liao said.
Liu Ching-chang (劉慶昌), a senior farmer from the Erchongpu (二重埔) community in Jhudong Township (竹東), Hsinchu County, said he was "very disappointed with Wu."
"Wu was very insincere; the meeting was just a show," Liu said.
Although activists and farmers were not satisfied with the outcome, Wu saw things differently.
Liao said Wu told them he would give himself a grade of 95 percent for his handling of the land expropriation issue and asked the activists not to pay so much attention to the five points he did not get.
Wu also said he was "extremely unhappy" with what activists had told the media, Liao said, adding that Wu cursed five times during their meeting.
Despite yesterday's meeting, the overnight rally on Taipei's Ketagalan Boulevard in front of the Presidential Office on Saturday will proceed as planned, Tsai said, adding that more than 2,500 farmers from 12 communities facing land issues were expected to take part.
Comments will be moderated. Keep comments relevant to the article. Remarks containing abusive and obscene language, personal attacks of any kind or promotion will be removed and the user banned. Final decision will be at the discretion of the Taipei Times.