Woman allegedly tells police she poisoned in-laws
An elderly couple in Longjing District (龍井), Greater Taichung, were allegedly poisoned by their daughter-in-law on Saturday, investigators said yesterday.
Accompanied by her husband, the 39-year-old woman, originally from the Philippines, who took her husband's surname, Chen (陳), upon marriage, turned herself in yesterday morning.
Investigators said the woman told them she had been married for 16 years and had three children. Claiming she had a tumultuous relationship with her in-laws, investigators said the woman told them she had gotten sodium nitrite — used to eliminate rust on iron — from a nearby steel factory and added between 1g and 2g to bamboo soup she served to her in-laws for lunch, hoping to induce diarrhea.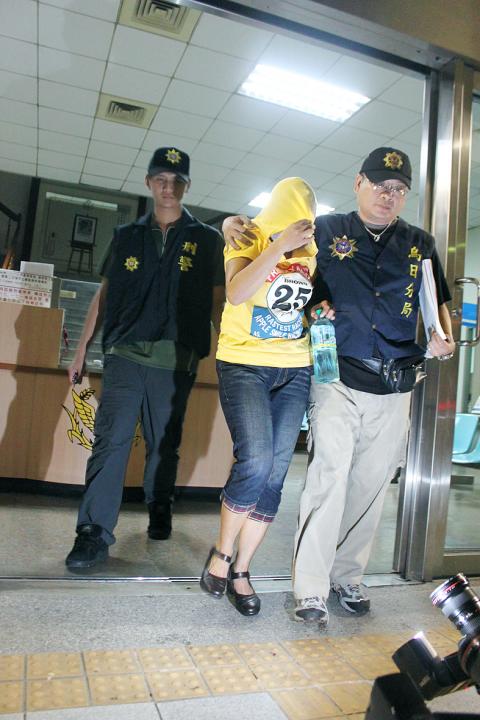 Greater Taichung police officers escort a woman from their station after she was arrested last night in connection with the alleged poisoning of her Taiwanese husband's parents on Saturday. The woman, originally from the Philippines, turned herself into police yesterday morning.
Photo: Yu Poh-lin, Taipei Times
Investigators said they had seized some sodium nitrite at the family's residence as well as some from the steel factory.
The woman said she had no intention of murdering her in-laws, but had only wanted them to suffer the inconvenience of diarrhea.
Chen Li-hsiung (陳利雄), 72, and his 68-year-old wife were sent to a hospital for emergency treatment when they fell ill after consuming the soup.
Doctors said the lips, skin and nails of the elderly couple had turned purple and black, which are symptoms of poisoning.
The woman was arrested late last night, but the details of the charges were not released.
This story has been updated since publication.
Comments will be moderated. Keep comments relevant to the article. Remarks containing abusive and obscene language, personal attacks of any kind or promotion will be removed and the user banned. Final decision will be at the discretion of the Taipei Times.