Tsai talks 'nuclear-free homeland'
BERLIN BUSINESS: The DPP chairperson discussed alternative energy options and cross-strait issues when she met with German lawmakers and policymakers
Senior German policymakers have reportedly expressed support for Democratic Progressive Party (DPP) Chairperson Tsai Ing-wen's (蔡英文) initiative to phase out nuclear power by 2025 in Taiwan in favor of more sustainable energy.
A statement given by the DPP, which could not be independently verified, said that German lawmaker Hans-Josef Fell, a key author of a renewable energy law, met with Tsai on Tuesday in Berlin to discuss her "2025 nuclear-free homeland" plan.
"The two sides exchanged opinions on Germany's energy and nuclear-free policies. Fell expressed high recognition of Tsai's [proposal] and believes that the whole world will look toward Taiwan if it were to progress toward this target," the DPP statement read.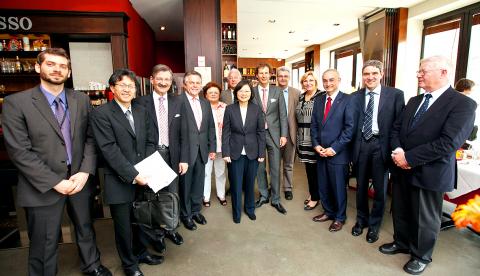 Democratic Progressive Party Chairperson and presidential candidate Tsai Ing-wen, center, meets members of the Germany-Taiwan Parliamentary Friendship Group in Berlin, Germany, on Tuesday.
Photo: Ccourtesy of the DPP
"Fell said the anti-nuclear movement has become the trend after the Fukushima Dai-ichi nuclear power plant incident," the statement said.
The DPP said the German experience represented a "big encouragement" that would be considered for future policy in Taiwan.
"The German government has showed leadership abilities over the past decade to support sustainable energy through its policies. As a result, renewable energy sources today account for 17 percent of its power needs, among the world's highest," the DPP said.
The DPP's presidential candidate was said to have noted that Germany's sustainable energy policies have since created more than 370,000 jobs, suggesting that a similar feed-in tariff scheme could do the same to Taiwan.
The "2025 nuclear-free homeland" is Tsai's first major policy initiative since announcing she would run for president.
It aims to prevent commerial operations after the completion of the Fourth Nuclear Power Plant and to not renew the licenses for the three plants now in operation, pending the development of other renewable sources.
Government officials have said the plan represents a flip-flop for Tsai, because she had once supported the Fourth Nuclear Power Plant.
DPP officials accompanying Tsai on her trip to Germany and the UK also said that she met with German lawmakers belonging to a "Taiwan caucus" as well as the German Council on Foreign Relations, a prominent think tank staffed with retired policymakers.
Tsai was said to have told the politicians that cross-strait issues concerned not just Taiwan and that Taiwan should stand side-by-side with the international community when it came to dealing with Beijing.
"Taiwan should base the framework for cross-strait interactions on its relations with the rest of the world. This method will avoid falling into a political trap that will see [Taiwan] trade political concessions for economic benefits," a DPP transcript of the meeting quotes Tsai as saying.
On Tuesday evening, Tsai told a gathering of Taiwanese expatriates that she believed the DPP and the Chinese Nationalist Party (KMT) were locked in a very close race for next year's presidential and legislative elections.
Both parties have grassroots support of 6 million voters and backing from 1 million to 1.5 million undecided voters, who will be key to victory next year, she said in comments recorded by local media.
Comments will be moderated. Keep comments relevant to the article. Remarks containing abusive and obscene language, personal attacks of any kind or promotion will be removed and the user banned. Final decision will be at the discretion of the Taipei Times.