FOOD SCARE WIDENS: New chemical adds to food scare
MORE PRODUCT RECALLS: A chemical additive similar to DEHP was used in a number of foods and beverages, although this one has less adverse health effects
Health authorities have seized more products after discovering that another upstream food additive manufacturer had been adding the chemical di-isononyl phthalate (DINP) to clouding agents, the Department of Health said yesterday.
The health department said Pin Han Perfumery Co in Tucheng District (土城), New Taipei City (新北市) had been illegally adding DINP to its clouding agents.
Clouding agents are used to create opacity in foodstuffs and beverages to make them more appealing to consumers.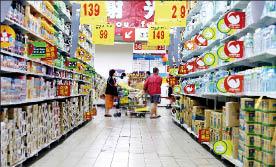 Customers shop at a Taipei supermarket yesterday.
Photo: CNA
Investigators searched Pin Han on Friday evening and summoned owner Chen Che-hsiung (陳哲雄), his wife, Wang Fen (王粉), and his son Chen Wei-cheng (陳威丞) for questioning.
Banciao judges yesterday morning approved prosecutors' application to detain Chen Che--hsiung and Wang. Chen Wei-cheng was released on NT$100,000 (US$3,465) bail.
As a result of the latest finding, the Department of Health seized sports drinks and asparagus juice made by two companies in central and southern Taiwan, as well as the products from a cooking oil company in Kaohsiung.
Food and Drug Administration Director-General Kang Jaw-jou (康照洲) said DINP is a chemical similar to di(2-ethylhexyl) phthalate (DEHP), which was recently discovered in many local beverages and dietary supplements.
Kang said 54,822 cartons of sports drink and 36,533 cartons of asparagus juice, as well as 128kg of clouding agent used by Uni--President Enterprises Corp in Greater Tainan, have been seized, along with 5,682 cartons of sports drink and 13.82kg of clouding agent used by Maida Foods Corp in Yunlin County, as well as various products from Tai Hwa Oil Industrial Co in Greater Kaohsiung.
He said that both DINP and DEHP are legal when used in the manufacture of plastic products, but can not be legally used as food additives.
In animal experiments, DINP has been found to have less adverse health effects than DEHP, although it has been found to cause organ damage in rodents, Kang said.
The EU has not listed DINP as a carcinogen, he said.
DINP, like DEHP, is flushed from the body quickly, he said.
Additional reporting by Rich Chang
Comments will be moderated. Keep comments relevant to the article. Remarks containing abusive and obscene language, personal attacks of any kind or promotion will be removed and the user banned. Final decision will be at the discretion of the Taipei Times.