INTERVIEW: Ma shifts with the political winds: Nan Fang Shuo
President Ma Ying-jeou has been in power for three years. Commentator Nan Fang Shuo told staff reporter Tzou Jiing-wen of the 'Liberty Times' (sister paper of the 'Taipei Times') that the characteristics of people who are afraid to have their own opinions are very obvious in Ma, whom he described as someone who bows whichever way the wind blows. He said that a person with no core values is always deceiving every side — deceiving the people of Taiwan and deceiving Beijing — and that when one deceives every side, someone will inevitably find out
Liberty Times: It is said that you were always referred to as "big brother" by the children in President Ma Ying-jeou's (馬英九) neighborhood when he was young.
Nan Fang Shuo (南方朔): I admit, I have known him since he was little and our paths crossed more than once in the past. But then again, I know a lot of people. I am even a friend to [former president] Chen Shui-bian (陳水扁). So yes, I knew Ma a long time ago, but how close were we? Don't jump to conclusions: We weren't that close.
LT: Everyone always gets curious as to why you, who should be close to Ma in political inclinations and such, would be such a severe critic of him after he became the president.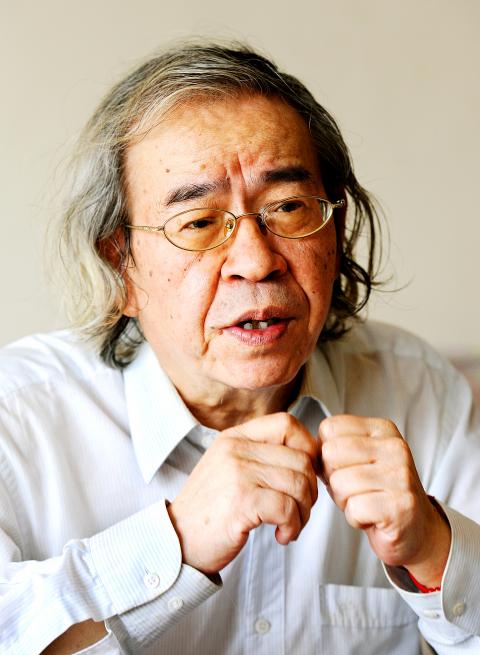 Nan Fang Shuo: Basically, I am holding Taiwan's politicians and the government to a new standard, especially in this age of democracy and mass media. This new standard is harsher, and in truth I was already quite harsh with the Chen administration.
The Taiwanese public seems to perceive harsh critics as being in the opposition, and is not very open-minded to academics who take the middle ground. Before, when I criticized the Democratic Progressive Party (DPP), I was perceived as pan-blue, and now that I criticize the Ma administration, I am viewed as pan-green. I don't think that I am the problem, but rather that Taiwanese society itself has a problem.
LT: On the issue of leadership, in the past your writings and speeches compared Ma with the last Ming Dynasty emperor, Chong Jhen (崇禎), as a narcissistic type of leader, and more recently, you said he appears to be a frightened leader. What exactly is your total assessment of Ma?
Nan Fang Shuo: Many experts have come to the realization in modern leadership studies that a leader must have his own core ideals, which enables them to find a good team. Even a team that is not exceptional in any way may be made to be exceptional through good leadership, and a bad leader could do nothing even if you gave them a very strong team. It's one of the reasons why leadership has become such a prominent subject in the West.
However, modern politicians, especially those in high places, are afraid to have their own ideas. Owing to the complexity of modern society, no one would find your proposals to be acceptable, criticizing you for everything. They are not aware that the more dynamic a society becomes, the more it is in need of good leadership.
The term "political altitude" refers to the ability to integrate all sorts of opinions, resolving divergent opinions from elevated positions. However, such leaders are increasingly rare.
Those who are fearful of having an ideal will sway whichever way the political winds blow, and this characteristic is very evidently seen in Ma. He's a good person, I wouldn't contradict that, but he really isn't a good leader.
Without core values, the Ma administration is in fact forever deceiving people on every side; deceiving Taiwanese, deceiving Beijing, deceiving every side. In the end, the lies will be seen through, and he won't be able to smooth things over on both sides. I think that the recent World Health Assembly (WHA) incident is Beijing's warning to Ma.
LT: Many people have observed Ma's decision-making circle as being too small. What are your observations?
Nan Fang Shuo: A leader's greatest flaw is seeking homogeneity; birds of a feather flock together, and that's the problem with this government. Everyone knows that there are only a few trusted aides, and if you put it on a larger scale, it's ruling the Republic of China (ROC) through Taipei. They don't care about a lot of people, and there are many people in Taiwan that they don't know about.
Does Taiwan have talented people? I am of the opinion that Taiwan must have many talented people waiting to be discovered, but he [Ma] doesn't know, nor does he want to know.
It may be that homogeneity on your staff makes it easier to communicate, and easier to be obeyed, thereby showing that the entire national system speaks with one voice. It is a bit troubling, however, as a leadership characteristic.
LT: Why do you think the WHA incident is Beijing's warning to Ma?
Nan Fang Shuo: Populism during the Chen administration had primarily been for the "Dignity of Taiwan," and Ma-style populism is: "Harming the relationship of the Taiwanese people."
In the past, whenever there was a hint of problems surfacing, Ma always used this particular phrase, which proved to be very useful. I think Beijing is tired of the Ma-style populism, and the comments made by [China's Taiwan Affairs Office spokesperson] Fan Liqing (范麗青) weren't very friendly. Some media even seemed content with Fan's mention of the "Department of Health of Chinese Taipei," which is outrageous. I originally thought that Beijing would go along with the Ma-style populism and let Ma win a little, but it seems this time that Beijing doesn't plan to.
I visited Beijing in the past, and I feel that Beijing has for a long time only listened to the Chinese Nationalist Party (KMT) on issues concerning Taiwan. The Taiwan that Beijing knows is the Taiwan painted for them by KMT government figures both high and low. When Chen assumed the role of president, it was with great determination that Chen reiterated the "four noes and one not" (四不一沒有) policy. If I had been Beijing, I would have met Chen's initiative with a kinder response, and perhaps Chen's second term would not have been as hard. From watching Chen's actions and hearing his speech, Beijing cooperated with the KMT to pick on Chen; Chen was forced into madness.
So I told Beijing that issues concerning Taiwan required Beijing's own decision making and they should not always listen to the KMT, because the KMT is feeding them false information.
LT: You recently criticized the Economic Cooperation Framework Agreement (ECFA) during the seminars reviewing the past three years of the Ma administration. Why do you make such criticisms?
Nan Fang Shuo: In all the copious amount of writings I have published, not once have I mentioned any arguments against the ECFA.
In economics, however, there's one unbreakable rule, which is that the market decides the economy, and the economy decides the economics. The fact is that many of the principles believed by economists are brought out by the market and power.
Without question, China is a vast market, and it is also a vast factory, and so economists have elevated it to mythic proportions. One conservative in the US said that what was good for the corporations was good for the people. I never agreed with that phrase, because what is good for the corporation is not necessarily good for the people, but it's based on that logic that our government works.
After the ECFA was signed, I'm sure a lot of the businessmen and factories that went to China made a great deal of money. However, there are a lot of logical mindsets in this society, and social equality, liberty, is right up there with capitalism. However, up until now, the ROC has been operating on only one particular logical system.
We could put the question differently: Since signing the ECFA, have our investments increased? Has the amount of foreign investment increased? The answer to both questions is no.
Owing to the fact that the market lies on the other side, [signing the ECFA] accelerated Taiwan's cash-flow to China, decreasing job opportunities in Taiwan's high-quality work environment in return for Chinese tourists, a low-quality tourism. With decreasing employment, of course there will not be any raise in pay.
If you total up the calculations, despite Taiwan's own efforts and China's economic arrangements, Taiwan will become the downstream in the top-down Chinese economic system, causing all the high-end companies to move to China and leaving Taiwan to sink lower and lower in the entire system. This is why I have a problem with the ECFA.
The government, however, still deceives the public and said, after signing the ECFA, we would be able to sign a Free Trade Agreement [FTA] with ASEAN. It's lying. Signing the FTA would mean recognizing Taiwan as a country that is half-way independent, and China won't stand for that. Even Singapore hasn't been able to wrap up the deal yet, right? You can deceive up to the very last moment, but you still won't be able to make it work out.
LT: Ma still has one term of his presidency left. Do you have any other advice?
Nan Fang Shuo: First, they should look back and reflect on cross-strait policy. The language of "no unification, no independence" is very tricky language, and Ma's logic is to say "no independence" to the people wishing for unification, and saying "no unification" to the people wanting independence. This sort of taking advantage by playing word-games is not a government that takes responsibility.
Second is Taiwan's economy. Under globalization, each nation must still remain autonomous to some degree, including on taxation and economic policies. One has to have one's own set of values, for without your own set of values, you can only make policies based on the slogan of globalization and end up having something like the ECFA, becoming deprived of businesses and being a nobody in the international system. The design of Taiwan's businesses shouldn't follow the policies of major powers; they have their ways of survival, and small nations have theirs.
Third is education. Taiwan's education is very strange. We have a large number of universities, well over 100, and some are on the verge of collapse. What to do? You deceive the people of China and say you're accepting Chinese students. The Chinese students with good grades won't come to Taiwan; they'll go to Hong Kong, because at least in Hong Kong they are taught in English and this gives a competitive edge to the students thinking of going overseas for further education. Taiwan's education needs to be reformed, and needs to focus on vocational education.
LT: Have you met with any pressure for your criticism of the government?
Nan Fang Shuo: There isn't currently any obvious suppression, such as jailing or executions, in Taiwan, but they can execute untraceable invisible "punishments" through the vast complex payment system. For example, when I was criticizing Chen in the past, lots of media were nice to me. Now, they don't even come to talk to me.
TRANSLATED BY JAKE CHUNG, STAFF WRITER
Comments will be moderated. Keep comments relevant to the article. Remarks containing abusive and obscene language, personal attacks of any kind or promotion will be removed and the user banned. Final decision will be at the discretion of the Taipei Times.