FOOD SCARE WIDENS: Kids more vulnerable to risk from DEHP intake
TAINTED BEVERAGES: Children who consume 350ml of fluids containing 12ppm of DEHP daily for 12 months are six to eight times more at risk of developing problems
Children who drank beverages contaminated with di(2-ethylhexyl) phthalate, or DEHP, on a long-term basis are susceptible to reproductive dysfunctions, a medical research center said yesterday.
Children who consume 350ml of tainted fluid containing 12 parts per million (ppm) of DEHP on a daily basis for 12 consecutive months are six to eight times more at risk of developing problems with their reproductive system when they become adults, recent research by the National Health Research Institutes showed.
Institute president Kenneth Wu (伍焜玉) said DEHP is suspected to be an endocrine disruptor, which could lead to the shrinking in size of the penis and testicles in men and thyroid dysfunction.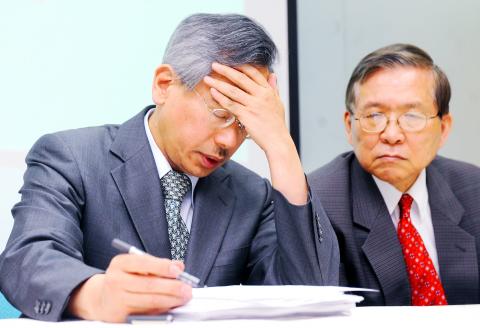 Department of Health Minister Chiu Wen-ta, left, is joined by National Health Research Institutes president Kenneth Wu during a meeting to provide information on the potential health hazards of ingesting di(2-ethylhexyl) phthalate, or DEHP.
Photo: Liao Chen-huei, Taipei Times
DEHP's effect on children is magnified, because the concentration of the harmful chemical is higher in persons with a lower body mass.
"The health risk of an adult consuming the same amount of DEHP beverage is reduced by half," Wu said.
The result was based on statistics from a US study in the 1980s that tested DEHP on rats.
"We are not yet sure of the health risks of DEHP on humans because little academic information was found," Wu said. "But we hope that the incident can help us understand more of the hazard's ratio."
Wu said that since DEHP is released from the body naturally within five to 12 hours, the health risks for infrequent consumers are relatively low.
Nevertheless, Liou Saou-hsing (劉紹與), director of the institute's division of Environmental Health and Occupational Medicine, said that toxic residues might be left in the body once DEHP is eliminated.
Parents who suspect their children may have been harmed by excessive DEHP intake should take their children to the doctor for a checkup, Lin said.
Asked whether DEHP could cause cancer, Wu said there was a lack of research on a large human sample at home and abroad to confirm this.
"This is the first time in the world that so many people have consumed DEHP-tainted drinks," he said, adding that most research in the US and Europe only focus on small-scale exposures in the environment.
DEHP is classified as Group 2B, or possibly carcinogenic to humans, according to the International Agency for Research on Cancer.
Taiwan is now working with epidemiologists to come up with a two-year, mass questionnaire to trace the health risks of DEHP consumption, Wu said.
Comments will be moderated. Keep comments relevant to the article. Remarks containing abusive and obscene language, personal attacks of any kind or promotion will be removed and the user banned. Final decision will be at the discretion of the Taipei Times.