Rice farmers protest water diversion
INDUSTRIAL USE: The government is set to construct an underground pipeline to divert water to a science park from a canal source that Sijhou rice farmers depend on
Farmers from Sijhou Township (溪州), Changhua County, accompanied by the Taiwan Rural Front civic group and legislators, gathered in front of the legislature in Taipei yesterday to protest against the redirection of water traditionally used for agriculture to accommodate the fourth-phase expansion project at the Central Taiwan Science Park.
Wu Yin-ning (吳音寧), a writer and resident of Sijhou, said generations of farmers had depended on irrigation water provided by a canal that runs through their land, but now the government is set to construct a 24.5km underground water pipe appropriating water from the source to provide 66,500 tonnes of water per day for the science park.
Wu questioned the legitimacy of constructing the water pipes, which is said to be a temporary solution before a long-term water source — the proposed Dadu Weir — is built.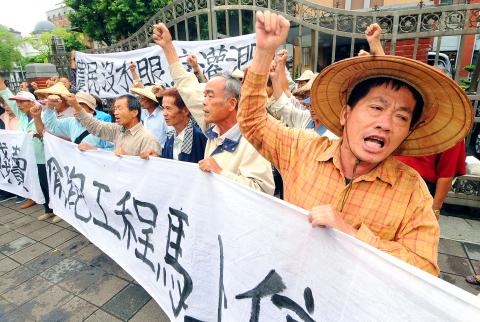 Farmers from Sijhou Township, Changhua County, hold protest banners outside the legislature in Taipei yesterday. The farmers called for a budget freeze on the fourth-phase expansion of the Central Taiwan Science Park, which they say would divert 66,500 tonnes of water per day away from agriculture.
Photo: Liao Chen-huei, Taipei Times
Legislators have yet to pass a budget for the pipes and the proposed weir has not undergone an environmental impact assessment by the Environmental Protection Administration.
Holding a bunch of withered rice, farmer Pao Wan-tien (包萬添) said that with irrigation water available for four days and halted for six days, the rice crop had grown into "blank cartridges" with no ripe rice.
Perng Ming-hwei (彭明輝), a professor at National Tsing Hua University, said that if several countries shifted from fossil fuel energy to biomass energy in the future and if Taiwan's food self-sufficiency rate remained so low at about 30 percent, the nation risked facing a food crisis.
Taiwan Rural Front spokeswoman Tsai Pei-hui (蔡培慧), an associate professor at Shih Hsin University's Graduate Institute for Social Transformation Studies, said recently that many economists had said that agricultural use of water accounted for about 70 percent of total water usage, which seemed wasteful.
"However, agricultural-use water returns to the natural water cycle in the land; it isn't polluted like industrial-use water," she said.
Furthermore, the water, which should be seen as a public asset, was being sold cheaply — at NT$3.3 per tonne — to the park by the local irrigation association, Tsai said.
In a public hearing following the protest, Chang Ching-chang (張敬昌), director of the Department of Irrigation and Engineering at the Council of Agriculture, said that while some farmers believed the shortage in irrigation water was the result of water being rerouted to the science park, in reality the main reason was that the nation had received less rainfall this year.
The irrigation association will only transfer water for industrial use when there is excess water supply, Chang said, adding that industrial-use water at the park would account for 1.6 percent of the total water supply.
Water pipes are only for short-term use and the long-term solution is the proposed Dadu Weir, park director-general Yang Wen-ke (楊文科) said, adding that alternatives would be explored if the weir is not built.
National Science Council Minister Lee Lou-chuang (李羅權) said the council would look to attract high-tech industries that do not need substantial amounts of water to the park, in hopes of benefiting both farmers and the economy.
The farmers also demanded that the construction of a proposed sedimentation tank near the park, along with the water pipes — whose cost is estimated at NT$2.3 billion (US$79.6 million) — be stopped immediately until the government gave a clear explanation on alternative solutions should the Dadu Weir project fail to pass an environmental impact assessment.
"I don't have much to say, because I feel like my stomach has filled with blood," Pao said. "We have to bend down and plough to feed ourselves, but how are we to make a living with these withered crops? When you [governmental officials] sit there and make decisions with your pen, many of us become victims."
Democratic Progressive Party Legislator Wong Chin-chu (翁金珠), a former Changhua County commissioner, concluded the hearing by asking the officials to submit an evaluation and alternative plan to the legislature within three months.
Comments will be moderated. Keep comments relevant to the article. Remarks containing abusive and obscene language, personal attacks of any kind or promotion will be removed and the user banned. Final decision will be at the discretion of the Taipei Times.