MA YING-JEOU — THREE YEARS: Ma vows to achieve more for Taiwan
TAINAN SPEECH: The president spoke about what he called 'transgenerational justice' and defended his administration's efforts to improve ties with Beijing
President Ma Ying-jeou (馬英九) yesterday promised to achieve more progress in terms of the country's sovereignty, human rights and environmental protection.
In a 20-minute speech at the National University of Tainan to mark his third year in office, Ma said the government has the responsibility to work for the good of current and future generations.
"We should not narrow the opportunities for the next generation, but rather should lay a good foundation for its well-being," he said. "This is transgenerational justice."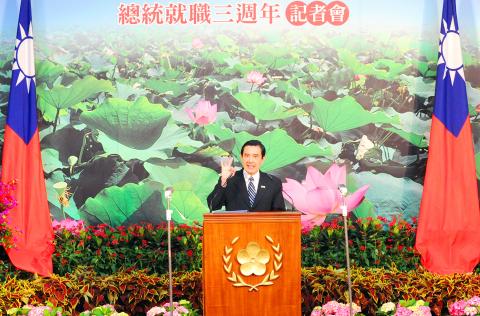 President Ma Ying-jeou gestures during a speech yesterday at the National University of Tainan to mark his third year in office.
Photo: Huang Chih-yuan, Taipei Times
"Your future is Taiwan's future. The government's responsibility is to build an environment that allows you to use your talent," he said, addressing the nation's young people.
Today is the third anniversary of Ma's inauguration.
Holding the speech and a press conference in Greater Tainan was seen as a re-election ploy because the area has long been a stronghold of the Democratic Progressive Party (DPP).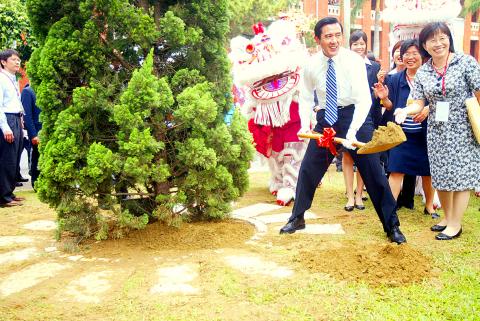 President Ma Ying-jeou poses with a spadeful of soil during a tree-planting ceremony on the National University of Tainan campus yesterday.
Photo: CNA
Ma, who will be seeking re-election in January, has long been accused by his critics of hurting Taiwan's sovereignty and interests in his dealings with China, but he defended his policy of building better ties with China, saying that none of the 15 agreements signed between the two sides of the Taiwan Strait over the past three years had put Taiwan at a disadvantage.
"It is our responsibility to help future generations grow and develop in a peaceful cross-strait environment," he said.
Despite improved cross-strait relations, Ma said, he has continued to urge the US to sell the "necessary defensive weapons" to Taiwan.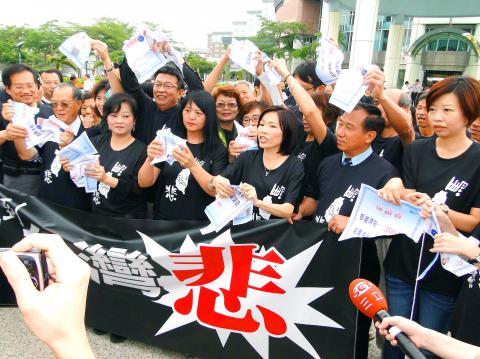 Members of the Democratic Progressive Party's Tainan branch and Greater Tainan Council caucus protest outside the council building yesterday against what they said were President Ma Ying-jeou's broken election promises.
Photo: Hung Jui-chin, Taipei Times
"Only by increasing Taiwan's power to defend itself will we be able to maintain a balance across the Taiwan Strait," he said. "Only by doing so will Taiwan gain confidence in the course of its interactions with the mainland."
Ma said that his administration has lodged strong protests with Beijing over any denigration of Taiwan's sovereignty, including the recent case involving a memo issued by WHO Director-General Margaret Chan (陳馮富珍) in September last year. The memo asked its recipients to refer to Taiwan as a "province of China."
Ma said he had also asked Department of Health Minister Chiu Wen-ta (邱文達) to protest the letter at this week's meeting of the World Health Assembly (WHA), the WHO's governing body.
When things matter to national sovereignty and Taiwan's dignity, "Taiwanese are not afraid of anything," Ma said, switching to Hoklo (also known as Taiwanese.)
Ma said Tainan Airport will become the ninth in the country to accommodate direct flights to and from China, starting with charter flights this summer.
He also listed several policies he said would benefit southern Taiwan. The government has invested or plans to invest a total of NT$744.7 billion (US$25.8 billion) in construction projects in southern Taiwan, he said, including an underground railway and creative cultural park in Greater Tainan and a NT$263.2 billion project to make Greater Kaohsiung an multi-purpose port and a major industrial city.
Ma said not everyone in the country was aware of his administration's efforts to make Taiwan a better place to live.
"That's why I've been on the road, meeting people, especially those who will become eligible this year to vote," he said in response to a reporter's question on how he would woo first-time voters.
Meanwhile, more than 100 people protested outside the Greater Tainan Council against Ma's presidential record.
The rally, organized by the DPP's Tainan branch and its Greater Tainan Council caucus, featured demonstrators clad in black shirts singing songs and holding banners proclaiming how painful their lives have been under the Ma administration.
The caucus members accused Ma of failing to fulfill many of his election promises.
Comments will be moderated. Keep comments relevant to the article. Remarks containing abusive and obscene language, personal attacks of any kind or promotion will be removed and the user banned. Final decision will be at the discretion of the Taipei Times.