Protesters urge control of ELF
SAVE OUR ENVIRONMENT: The protesters panned the government for maintaining strict limits on ELF radiation in its offices, but not imposing the same in communities
Holding hand-written cloth banners and wearing weaved straw hats and raincoats, hundreds of people paraded through the rainy streets of Taipei yesterday afternoon in a protest calling for safe neighborhoods without the threat of exposure to electromagnetic and low-frequency radiation.
People from more than 50 self-help groups and non-governmental organizations called for a safe living environment with extremely low frequency (ELF) and electromagnetic radiation exposure levels below 2mG, which is the legal limit in government offices, they said.
Yan Hsiu-lan (顏秀蘭), who said she was a victim of long-term exposure to electromagnetic radiation in Wufeng Township (霧峰) in Greater Taichung, wept as she told the crowd how ELF exposure has impacted her life.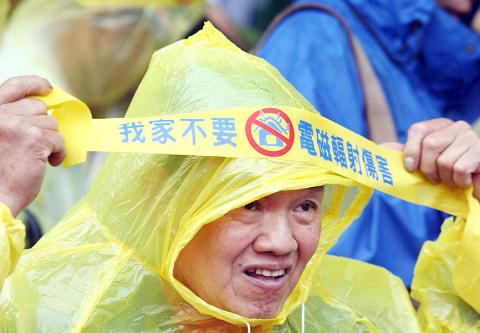 Electromagnetic Radiation Hazard Protection and Control Association ties a headband with the text "I don't want electromagnetic radiation in my home" around his head during a demonstration in Taipei yesterday.
Photo: CNA
"I have to sleep in an aluminum box every night because my head aches," she said, kneeling on the ground.
"Let's ask our government not to joke around with our lives. The government uses our [tax] money to protect government employees from ELF, so why can't we be protected as well? We are victims..." she said before breaking down in tears, unable to finish her sentence.
Chen Jiau-hua (陳椒華), the founder and chairperson of the Taiwan Electromagnetic Radiation Hazard Protection and Control Association, urged the government to stop using 833mG as a safety measure.
Chen said that figure is a reference level that could cause transient effects to the human nervous system, which the International Commission on Non-Ionizing Radiation Protection suggested as safety level for long-term (above four hours) exposure.
Other demands included providing the public with a source of inquiry when facing uncertainties; making public information about the harmful effects of ELF; amending the Environmental Protection Administration's administrative regulation of ELF; and stating explicitly that long-term exposure to ELF above 3mG or 4mG may cause cancer.
The protesters also urged authorities to move facilities that emit electromagnetic radiation away from schools, hospitals and residential areas.
They said that electronic goods that emit electromagnetic radiation, such as mobile phones, should be labeled with a safety range and the specific absorption rate, which is the amount of energy absorbed by the body when exposed to a radio-frequency electromagnetic field.
The government should establish a system in which citizens can participate in the planning and location of ELF emitting facilities, they said.
The rally was attended by mostly elderly people, with some taking their grandchildren along. Shouting "833mG is unsafe, household safety level should be 2mG" and "I don't want to be harmed by electromagnetic radiation," the protesters marched through the busy streets near Taipei Train Station before arriving at Ketagalan Boulevard in front of the Presidential Office.
A skit showing residents crying for help while being trapped in a large fishing net was played out at the site, symbolizing the increasing threat of electromagnetic radiation.
Following a meeting between 10 representatives of self-help groups and an official from the Presidential Office's petition section, Chen told the protesters that the official had promised to respond to their demands within a week.
Comments will be moderated. Keep comments relevant to the article. Remarks containing abusive and obscene language, personal attacks of any kind or promotion will be removed and the user banned. Final decision will be at the discretion of the Taipei Times.