Plastic cups, lids litter coastline
TAKE-OUT CULTURE: Statistics showed that the nation uses 1.5 billion disposable plastic cups a year, with cups and lids accounting for 70% of waste on the coastline
Disposable items such as plastic cups and lids associated with the country's take-out culture accounted for 70 percent of the waste strewn along the nation's coastline last year, a study released yesterday showed.
A total of 30,304 items were recovered from the nation's shorelines during 30 cleanup activities held in September last year, in which 2,561 people helped clean 12.68km of coastline. The initiative coincided with a global International Coast Cleanup campaign.
The five most common items found were plastic bags, glass bottles, fishing floats, caps and lids, plastic cups and bottles.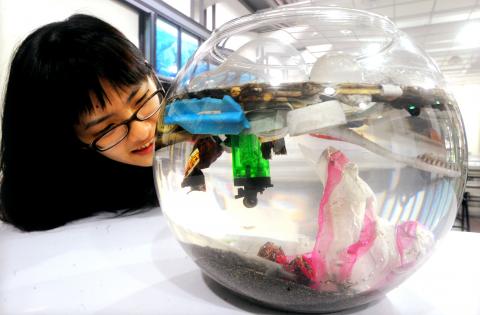 A woman in Taipei yesterday looks at a goldfish bowl containing sand, water and trash, which environmental groups used to show the damage caused to the sea by discarded disposable items.
Photo: Lin Cheng-kung, Taipei Times
Compared with data from previous years, the number of plastic bottles found "decreased substantially," Kuroshio Ocean Education Foundation executive director Chang Tai-di (張泰迪) told a press briefing.
Chang said this was probably because incentives are now in place for people to recycle plastic bottles.
However, the numbers of plastic cups, caps and lids commonly used by take-out beverage shops remained high, leading environmental groups to urge the public to use their own cups or at least recycle their disposable cups.
"A small act can change the environment. In our daily lives we should start loving the earth to pamper the ocean," said the Taiwan Ocean Cleanup Alliance, which conducted the study.
Statistics provided by the alliance showed that the nation uses 1.5 billion disposable plastic cups every year which threaten the environment, the alliance said.
Jenner Lin (林金保), secretary-general of the Society of Wilderness, applauded regulations introduced by the Environmental Protection Administration on Sunday that require beverage shops, fast-food outlets and convenience stores to give discounts or bonuses to customers who supply their own cup.
The policy could help reduce the number of plastic cups found along the shoreline, Lin said.
The alliance is composed of five environmental groups — the Hualien-based Kuroshio Ocean Education Foundation, the Tainan-based Marine Debris Monitoring Association, the Keelung-based National Museum of Marine Science and Technology, the Taipei-based Society of Wilderness and the Taiwan Environmental Info Association.
Comments will be moderated. Keep comments relevant to the article. Remarks containing abusive and obscene language, personal attacks of any kind or promotion will be removed and the user banned. Final decision will be at the discretion of the Taipei Times.