Dead hiker's family slams government's rescue effort
INCOMPETENCE: Police told the victim's family they didn't have long enough ropes to rappel into a river valley, while the military halted its searches during foggy conditions
Family members of Chang Po-wei (張博崴), a student at Chung Shan Medical University who died in a mountain climbing accident, yesterday accused the government of ineffective rescue efforts.
After 51 days of searching by local police, fire department, the military, volunteer civil rescue teams and teams hired by family members, Chang's body was found near Beigang River (北港溪) in Yunlin County last week by two mountain climbers — two days after they launched their own search for the missing student.
Chang's parents said their son had died in the mountains because the government did not use the GPS on their son's cellphone to locate him.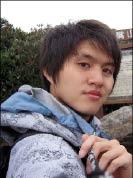 Chang Po-wei poses near a signpost on Yuanzueishan, Greater Taichung, in an undated photo provided by his family.
Photo: Lin Chun-hung, Taipei Times, courtesy of Chang Po-wei's family
They said they were mulling the possibility of seeking state compensation.
Chang's mother said a medical examiner had determined that her son probably died five or six days before he was found. Her son was a good swimmer and the family had requested that rescue teams search near or at a river valley, she said.
RECOUNTING PROCESS
After her son's disappearance, the commander of the rescue mission asked her if her son had gotten in a dispute with her or his girlfriend and could have been hiding, Chang's mother said.
For their part, police initially refused their request to obtain detailed records of their son's cellphone, stating requirements to respect personal information and privacy.
That, she said, cost additional rescue time.
GOING SOLO
Chang had set out to climb Baigu Mountain (白姑大山) on his own on Feb. 28.
At about 3:30pm on the second day, Chang's girlfriend received a phone call from him saying he was lost, but believed he could find his way out. She lost contact with him after half an hour.
Chang's family reported the matter to the police the same night.
His body was found close to where his parents and girlfriend had expected him to be.
Huang Kuo-shu (黃國書), the mountain climber who found the body, had called Chang's girlfriend last week and asked her to confirm her hearing the sound of running water during her last conversation with Chang.
Huang tracked footprints and folded tree branches close to the river valley and described what looked like a tent in the vicinity. After climbing down 600m and crossing deep water and waterfalls, Huang found Chang's body rolled in his sleeping bag, with his half-erected tent and backpack nearby.
Bloodstains on Chang's pants led Huang to conclude that Chang may have injured himself after falling into the valley, forcing him to wait to be rescued.
'PROFESSIONAL' HELP
Chang's father said that while the police and fire departments sent out teams of four people to search for three days, they limited their search to mountain trails.
Police told him they did not have ropes that were long enough to go down the valley, he said, while the military suspended searches whenever it rained or fogged.
After Chang's body was found, the teams hired by the family to look for their son changed their explanations, saying they did not have the equipment to go down the valley, he said.
If all the teams involved had acted more professionally, his son would probably have been saved rather than waiting to die in his sleeping bag, the father said.
Chang's parents said they were grateful for the civilian rescue teams' efforts, but were angry at the government's rescue plans and urged it to adopt stricter regulations on mountain climbing.
Comments will be moderated. Keep comments relevant to the article. Remarks containing abusive and obscene language, personal attacks of any kind or promotion will be removed and the user banned. Final decision will be at the discretion of the Taipei Times.