Ma vows 228 Incident won't be repeated
SEEKING THE TRUTH: Steve Chan said the 228 Memorial Foundation has formed a six-person truth-finding task force to study the 228 Incident and individual cases
President Ma Ying-jeou (馬英九) yesterday said he would continue to apologize to victims of the 228 Incident and their families, and that while he would not ask for their forgiveness, he could assure them that such atrocities would never be repeated in Taiwan.
Ma said that while the 228 Incident was the most "heinous and important incident" in Taiwan's modern history, the executions of Chang Chi-lang (張七郎) and two of his sons, Chang Tsung-jen (張宗仁) and Chang Kuo-jen (張果仁), were the most tragic and unjust.
"I cannot believe a government that was about to implement the Constitution could use such a grisly means to make such a serious and irreversible mistake," he said. "I'm deeply sorry about what happened and I want to apologize. Many people have asked me: 'Haven't I apologized enough,' but my answer to them is that I can never apologize enough."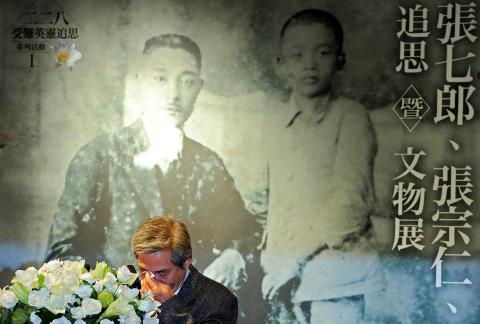 A family member of Chang Chi-lang, a victim of the 228 Incident, wipes away tears during his speech at a special ceremony held at the National 228 Memorial Museum yesterday to commemorate Chang and his two sons, who lost their lives in the incident.
Photo: Liu Hsin-de, Taipei Times
Bowing to the ceiling-to-floor posters of Chang Chi-lang and his two sons, Ma said he would not ask for the forgiveness of the victims and their families, but he promised them he would never forget such brutality and that he would not allow such a thing to happen again.
"We can forgive errors made in the past, but we should never forget the lessons we learn from them," he said. "That is a principle I will forever uphold."
Ma made the remarks when attending a memorial service for Chang Chi-lang and his two sons at the National 228 Memorial Museum.
Yesterday also marked the first day of the museum's exhibition of their documents and personal effects.
Chang Chi-lang was a National Assembly member who was killed by Chinese Nationalist Party (KMT) troops in the aftermath of the 228 Incident. He was one of the Taiwanese who participated in the adoption of the Republic of China (ROC) Constitution in Nanjing, China, on Dec. 25, 1946.
His two sons were practicing medicine at the hospital their father founded in Fonglin Township (鳳林), Hualien County. They were accused of "betraying the party and the country" and "organizing assassination operations."
They were 31 and 25 when they were executed.
Ma said that as the real reason for the injustice was unclear, he hoped the 228 Memorial Foundation would help discover the truth.
"There is no taboo or inhibition. The more information we have, the clearer the truth will present itself," he said.
National 228 Memorial Museum chairman Steve Chan (詹啟賢) said the 228 Memorial Foundation had formed a six-person truth-finding task force to study the 228 Incident and individual cases.
However, Chan said the organization does not have any legal powers and can only conduct studies from an historical perspective.
The task force, headed by former Overseas Compatriots Affairs Commission chairperson Chang Fu-mei (張富美), includes two historians, two representatives of victims' families and two former Control Yuan members.
The foundation also plans to begin providing victims' families with psychological counseling in a few months, he said, adding that the team would be led by Chen Yong-shing (陳永興), director of Saint Mary's Hospital in Yilan.
Chang An-man (張安滿), the grandson of Chang Chi-lang, wept as he told stories of his grandfather and his father, Chang Tsung-jen.
He said his grandfather cheerfully welcomed the ROC government and KMT troops after Japan was defeated in World War II, but it was ROC troops who murdered him.
"I always wonder what kind of a government the ROC is and whether the national leaders are humans or beasts. How can they be so cruel to their people and their children? But I don't have an answer," he said. "I hope future leaders will never let such atrocities happen to Taiwanese again and that the truth of the 228 Incident will one day be known."
Comments will be moderated. Keep comments relevant to the article. Remarks containing abusive and obscene language, personal attacks of any kind or promotion will be removed and the user banned. Final decision will be at the discretion of the Taipei Times.