DPP's Lu, Ker hold tense meeting
Awkward pauses peppered a meeting between acting Democratic Progressive Party (DPP) Chairperson Ker Chien-ming (柯建銘) and former vice president Annette Lu (呂秀蓮) yesterday, a few days after Lu backed out of the party's presidential primary.
In their first meeting since Lu's announcement last Tuesday, DPP caucus chief Ker failed to dissuade the former vice president from resigning from her position on the party's Central Executive Committee.
Ker, who took over as party leader after Tsai Ing-wen (蔡英文) temporarily stepped down to focus on her presidential campaign, met Lu along with DPP Secretary-General Su Jia-chyuan (蘇嘉全).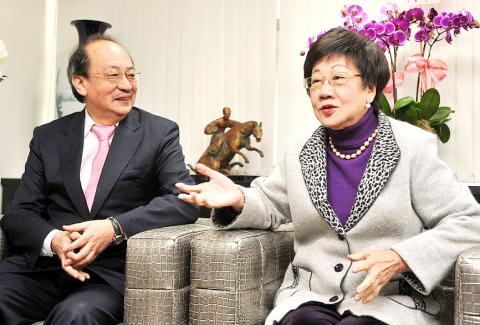 Acting Democratic Progressive Party Chairperson Ker Chien-ming, left, meets with former vice president Annette Lu in Taipei yesterday.
Photo: Chien Jung-fong, Taipei Times
Despite cordial greetings, the atmosphere immediately turned stale when Lu answered a request for her not to step down by saying: "Doesn't the [party] think I'm too old? That my time has passed and I should give way to you younger people?"
Senior DPP officials said last week that Lu's decision to back out of the presidential race was a "tremendous help to party unity," but they have remained concerned that she could leave the party or deepen internal strife.
Lu is believed to have dropped her bid after being pressured by senior DPP politicians, though her official position is that she wants to spend more time on environmental issues.
Ker said the party wanted to avoid a repeat of the split in the party during the 2008 primary.
"Then you should have talked to those candidates, why focus on me? There was even a campaign to ask everyone to send a letter asking me to drop out. What were [you] thinking?" Lu asked.
Comments will be moderated. Keep comments relevant to the article. Remarks containing abusive and obscene language, personal attacks of any kind or promotion will be removed and the user banned. Final decision will be at the discretion of the Taipei Times.