Rescue team on alert as supplies are sent to Japan
While declining for the time being Taiwan's offer of rescue teams to help with the aftermath of a magnitude 8.9 earthquake that battered the eastern coast of Japan on Friday, the Japanese government has given Taiwan a list of emergency supplies it needs for relief efforts, the Ministry of Foreign Affairs said yesterday.
Deputy Minister of Foreign Affairs Shen Ssu-tsun (沈斯淳) said Taiwan respects the Japanese government's decision, adding that Taiwan's rescue teams are on stand-by and would be ready to deploy should Japan request its help.
Meanwhile, a rescue team of 35 Taiwanese civilians arrived at Narita International Airport in Tokyo yesterday. The team said it would try to contact Japanese authorities to see if it could be of any help.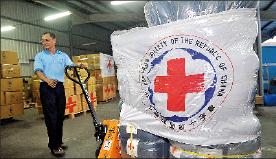 A worker uses a trolley to load relief goods to be given to Japan at a warehouse in New Taipei City yesterday. The relief goods, donated by Taiwan's Red Cross Society, will be transported to Japan today to assist in the recovery after a magnitude 8.9 earthquake and tsunami devastated the northeastern coast of Japan on Friday.
Photo: AFP
According to the ministry, the Japanese government's list of requested goods included 500 fuel-cell generators, gas stoves, 500 plastic mats and sleeping bags, 1,000 sets of warm clothing, 1,000 pairs of gloves and assorted dry provisions.
Ministry officials said the supplies would be sent to Japan on the first plane today and would be distributed at the Japanese government's discretion.
The ministry also called on the public to contribute what they can.
Anyone who wishes to make a donation can contact an official, surnamed Chao (趙), at the ministry's Non-governmental Organization Affairs Committee by calling (02) 2348-2192 or 0915-036-036, the ministry said.
In other developments, two doctoral students from Taiwan -attending an academic conference at Tohoku University in Sendai were located yesterday after having been unaccounted for since the earthquake and tsunami struck the area on Friday.
Twenty-eight-year-old Hsieh Liang-wei (謝糧蔚) and 38-year-old Lee Yung-hsu (李詠絮) have returned safely to the hotel where they had previously been staying, professor Liang Chung-ming (梁忠銘) of National Taitung University said.
Liang led a 22-member group of students and professors from various universities in Taiwan to Sendai on Thursday to attend the conference.
Other members of the group took a 2pm flight from Tokyo back to Taiwan yesterday.
The Ministry of Education (MOE) said that 1,600 of a total of 5,450 Taiwanese students in Japan had not yet been reached by 6pm yesterday, and of the 67 students studying in the areas hardest hit by the disaster, seven were still unaccounted for.
The MOE is calling on Taiwanese students studying in Japan to visit www.newtsa.com/twtokyo/ and key in their contact details to establish another channel of communication between them and their families back in Taiwan.
In the event of an emergency where urgent communication is needed, students' families in Taiwan can dial a 24-hour number 0919-929-803, and students in Japan can call 002-8180-6566-7779, the MOE added.
Comments will be moderated. Keep comments relevant to the article. Remarks containing abusive and obscene language, personal attacks of any kind or promotion will be removed and the user banned. Final decision will be at the discretion of the Taipei Times.