Supporters speak out on behalf of arrested Tibetans
Writers, musicians, an environmentalist and a student yesterday voiced their support for about 20 Tibetans arrested in recent years for their opposition to the Chinese occupation of Tibet.
"We may speak different languages, but we share a common language, which is 'freedom,'" rapper and songwriter Chang Jui-chuan (張睿詮) told a press conference in Taipei to support Tibetan musicians, writers, filmmakers and artists arrested in China.
"We may believe in different religions, but we share one common faith — this is 'human rights,'" Chang said.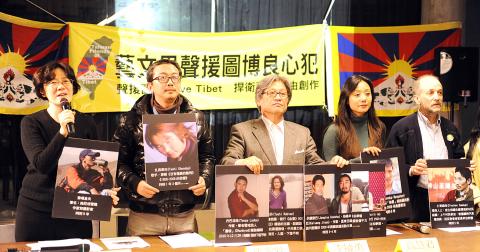 From left to right, Taiwan Friends of Tibet chairwoman Chow Mei-li, rapper Chang Jui-chuan, poet Lee Min-yung, musician Kao Hui-chun and environmentalist Robin Winkler yesterday hold up pictures of Tibetan artists and activists who have been jailed for their arts or environmental campaigns.
Photo: George Tsorng, Taipei Times
Following an uprising in Tibet in 2008, the Chinese government launched a series of arrests across China that continues to this day.
The plights of the 20 Tibetans highlighted at the press conference include those of musician Tashi Dhondup, filmmaker Dhondup Wangchen and environmentalists Rinchen Samdup and Karma Samdup.
A well-known local singer in Henan Province, Tashi Dhondup released Tibetan albums The Year of 1959 in 2008 and Torture Without Trace last year — both expressing Tibetans' nostalgia for the Dalai Lama and the suffering endured under Chinese rule.
He was detained in December for producing what Chinese authorities called "counterrevolutionary music."
Dhondup Wangchen was arrested not long after the release of a film documenting views from ordinary Tibetans on the Olympic Games in Beijing in 2008 and was sentenced to six years in prison.
"We should condemn any country in which there are prisoners of conscience. Tibetans have the right to speak their minds and should not be arrested over things they say," poet Lee Min-yung (李敏勇) said.
"Although China is rapidly developing, it's still not a civilized country and it could never win respect from the world if it continues to repress freedom of expression," Lee said.
Freddy Lim (林昶佐), lead vocalist of the metal band Chthonic said he was saddened at the thought that Tibetan musicians had to live in fear of being arrested for their art.
"I'm going to work on some new songs after the press conference and won't have to worry. They are supposed to enjoy the same rights as I do," he said.
Paicu Yatauyungana, a singer of the Aboriginal Tsou tribe better known as Kao Hui-chun (高慧君), said she came out to support the Tibetans because both Tibetans and Taiwanese Aborigines are oppressed peoples.
"Aborigines in Taiwan and Tibetans are all original inhabitants of their native lands, but we have both been exploited when a modern state came into our domains," she said.
"It's tragic that the people cannot feel relaxed while singing a song, and life is in shadow. The people cannot write articles without fear," Yatauyungana said.
In related news, to commemorate the 52nd anniversary of the Tibetan uprising against Chinese rule in 1959, Tibetan activist groups will organize a march in Taipei beginning at 2pm tomorrow from the Zhongxiao Fuxing MRT station to Taipei 101.
A candlelight vigil remembering those who died during the 2008 uprising will be held at Liberty Square in Taipei starting at 7pm on Monday.
Comments will be moderated. Keep comments relevant to the article. Remarks containing abusive and obscene language, personal attacks of any kind or promotion will be removed and the user banned. Final decision will be at the discretion of the Taipei Times.