Cycling league urges members to travel world using bicycles
The Cycling Grand Tour League has called for cyclists to trot the globe, using the slogan "Experience the vastness of the world with your own body!"
The league, made up of the Taiwan Asia Adventure Cycling Association (TACA), the Taiwan Cycling Travel Association and various tourism agencies, plans to accomplish its goal of globe--trotting in four years, with each member of the league participating in different segments to bike around the world.
"There are a lot of people wanting to go around the world, but they can't find the time or lack the ability and partners to do so," said TACA deputy director Chen Shou-chung , who went around the world in 400 days in 1998.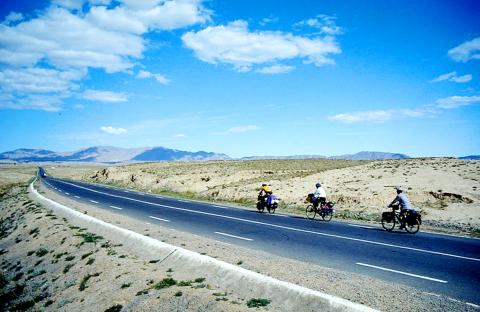 Cyclists ride along an unidentified stretch of road in this photo taken Wednesday. The Taiwan Asia Adventure Cycling Association has announced plans for a four-year round-the-world expedition crossing the Asian, European and American continents.
Photo courtesy of the Taiwan Asia Adventure Cycling Association
It was the reason why TACA was dividing the round-the-world trip up into sections, with 20 people to a group, hoping to ride around the world in four years.
Those cyclists who couldn't cycle the entire length may choose which parts of the journeys to join, he said.
The first leg of the Grand Tour, scheduled to begin in July, will cross the Silk Road, from Beijing to the Hassock borders. The second year will take riders from Central Asia to the Europe-Asia borders in Turkey.
The third year crosses the European stretch and the fourth year goes across North America, Chang said.
The Silk Road section is roughly 6,000km in total and will take three months to complete.
The TACA members said they plan to ride 60km to 100km daily in tandem, with a bus accompanying riders, affording them a more in-depth -experience of local life while completing the journey in 35 days.
TACA estimates that the total cost for the length of the Silk Road -journey will amount to NT$200,000 (US$6,700).
Chen said the Grand Tour isn't about how far one rides or how fast, but rather how one -experiences the world.
"The Grand Tour isn't for people who want to live in the lap of luxury and go shopping," Chen said, expressing the hope that the Grand Tour could be held yearly, so more people could participate.
Comments will be moderated. Keep comments relevant to the article. Remarks containing abusive and obscene language, personal attacks of any kind or promotion will be removed and the user banned. Final decision will be at the discretion of the Taipei Times.