Secret Valentine's Day stamps coming
People looking for creative ways to send sweet words of love on Valentine's Day might want to consider the Valentine's Day stamps that Chunghwa Post is releasing on Thursday next week.
This is the second time that Chunghwa Post is using Valentine's Day as a motif for its stamp designs. The first local Valentine's Day stamps were issued on Feb. 7, 2007.
Chunghwa Post said the design this time was inspired by the concept of the "secret code of true love" (真愛密碼).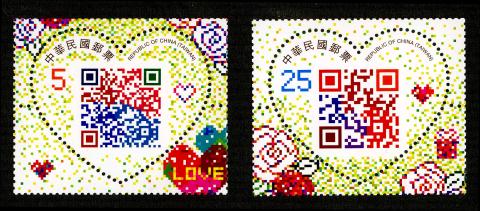 Chunghwa Post's Valentine's Day stamps are pictured yesterday.
Photo courtesy of Chunghwa Post
In designing the stamps, the company applied a "quick response code" (QR code), a two-dimensional code readable by QR barcodes and camera phones with a minimum resolution of 300,000 pixels.
The QR code was originally created to help car manufacturers quickly track vehicle parts. Nowadays, the code is widely used in other areas, such as inventory management.
People can use their mobile phones to take a picture of the stamp, activate the software for decoding QR codes and see the message appear on their screen.
The QR coded words are located inside a heart-shaped pattern on the stamp. Aside from coded words, the stamp also features digital images of roses, gifts and a heart.
The Valentine's Day stamps will be available in the form of NT$5 and NT$25 stamps. Unlocking the codes will reveal the words "Happy Valentine's Day" in English and Chinese on the NT$5 stamps and the words "I Love You" in both languages on the NT$25 stamps.
Comments will be moderated. Keep comments relevant to the article. Remarks containing abusive and obscene language, personal attacks of any kind or promotion will be removed and the user banned. Final decision will be at the discretion of the Taipei Times.