New flu-related deaths reported
FOUR DOWN: The four deaths, all of which involved the A(H1N1) virus, were among the 222 new cases of seasonal flu last week. Flu-related deaths since last July total 50
The Centers for Disease Control (CDC) yesterday said four people have died from A(H1N1), or swine flu, and 222 new cases of severe seasonal flu were reported in the past week, raising fears of a worsening situation as the nation heads into festivities for the Lunar New Year holidays.
The CDC said 73 percent of virus-induced respiratory illnesses involved seasonal influenza, with the main strain being H1N1.
Of the 222 newly reported cases of seasonal flu, 195 were A(H1N1), showing that the outbreak is still going strong, CDC Deputy Director-General Lin Ting (林頂) said.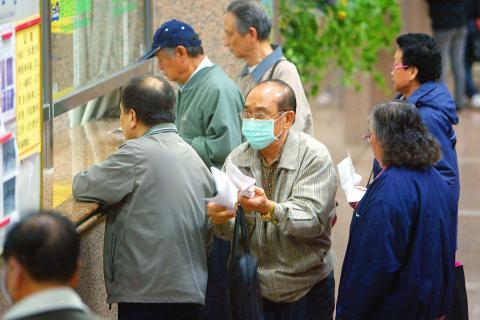 Patients collect medicine from a pharmacy counter at a hospital in Taipei yesterday as the Centers for Disease Control announced a spike in seasonal flu cases.
Photo: CNA
Lin said four deaths were reported last week, bringing to 50 the total number of deaths from seasonal flu that have been reported in various parts of the country since last July. Of the latest deaths, two involved children, aged seven and eight, while the other two victims were middle-aged.
All were infected with the A(H1N1) flu virus. None of the victims had been vaccinated.
Their deaths could have been prevented had they received flu shots, he said.
The two children who died were healthy and had no chronic illnesses before they came down with the influenza.
The seven-year-old girl became feverish on Jan. 19 and subsequently showed flu-like symptoms, including vomiting, diarrhea and dizziness. After several emergency trips to hospital, she died on Jan. 23.
The eight-year-old boy came down with the flu on Jan. 21 and showed similar flu-like symptoms. He died on Wednesday last week after emergency treatment failed to revive him, the CDC said.
Lin said the public should be especially careful about personal hygiene during the Lunar New Year holiday, because many people typically become infected amid increased social interaction during the holiday season.
The CDC reminded that those who experience fever and have trouble breathing should seek medical help as soon as possible, adding that it was important to pay special attention to children's health over the holidays.
Comments will be moderated. Keep comments relevant to the article. Remarks containing abusive and obscene language, personal attacks of any kind or promotion will be removed and the user banned. Final decision will be at the discretion of the Taipei Times.