Government stewed over tycoon's visit
CONTROVERSY: An official said government agencies had agonized over Chen Guangbiao's trip, while a Chinese dissident urged the public to be more positive
A Mainland Affairs Council (MAC) official yesterday said that government agencies had struggled to decide whether to approve Chinese tycoon and philanthropist Chen Guangbiao's (陳光標) visit to Taiwan, during which he is expected to make substantial donations to disadvantaged families.
MAC Deputy Minister Liu Te-shun (劉德勳) said the government agencies handling Chen's case agonized over the decision as they were caught between polarized public opinion on the visit.
"It is a good thing to bring a little warmth in the chill of winter, but due to Chen's particular style, the low-income families [who receive money] are faced with a challenge," Liu said, apparently referring to Chen's taste for heavily publicized philanthropic trips around China.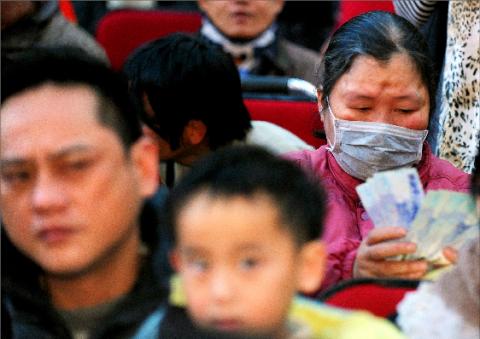 A woman counts the banknotes she received from the Chinese tycoon and philanthropist Chen Guangbiao in Hsinchu yesterday.
Photo: Liu Hsin-de, Taipei Times
In one donation stunt in China, he piled up a "wall of banknotes," before giving them away.
However, Liu said that he thought Taiwanese society was mature enough to face the issue rationally.
Liu added that TV interviews were not on Chen's itinerary when the application was approved by the National Immigration Agency (NIA) on Tuesday.
After Chen changed his itinerary and gave an interview to a TV station yesterday, Liu said he would have to check with the NIA to better understand the situation regarding Chen's visa.
If politics are involved in the charity work, "it then should be renounced," Liu added.
Earlier yesterday at a separate setting, exiled Chinese dissident Wuer Kaixi (吾爾開希) said Taiwanese should be more tolerant and look at Chen's benevolent act with a more positive attitude.
"If he wants to hand out money, respect and thank him. Even if the way he does it is different from what we expect, we also should respect him, even though we know we would never do it in that way," he said. "What it comes down to is how the people who receive the money feel because it is more important than how we feel. They might think it is a good thing."
While some have criticized Chen's handouts as a "united front" tactic, Wuer Kaixi said the term had been abused.
"Taiwan does not need to be so afraid of the united front tactics of the Chinese Communist Party [CCP]," he said. "Taiwanese should not worry that people with low moral values will have any sway on those with high moral values."
The way that Chen hands out the money in such a high-profile manner reflects the yawning chasm between the two sides of the Taiwan Strait in terms of moral values, Wuer Kaixi said.
"Many of my friends who have visited Beijing and Shanghai tell me there are a lot more skyscrapers there," he said. "I usually laugh and tell them that China's high efficiency is based on the sacrifices of its own people. Taiwan is not as efficient because it fully respects individual rights and that is nothing to be ashamed of."
Asked whether the government should ask Chen to keep a low profile during his visit, Wuer Kaixi said he did not think it was necessary, as Taiwanese society is tolerant, open and diverse.
"Taiwan should not ask a Chinese philanthropist to do what they want him to do because that is something the CCP would do to a Taiwanese philanthropist," he said. "That is the difference between Taiwan and China."
Wuer Kaixi said it would be nice if it were true that Chen was planning to change the way he gives out the money, but he said he hoped such a change would be made because Chen was touched by Taiwanese people rather than because of pressure exerted by legislators in the opposition parties.
"I think it would be better if opposition legislators were more tolerant of benevolent acts, even if they have a different position and ideology about a particular matter," he said.
Comments will be moderated. Keep comments relevant to the article. Remarks containing abusive and obscene language, personal attacks of any kind or promotion will be removed and the user banned. Final decision will be at the discretion of the Taipei Times.