Selina Jen's wedding plans to go ahead, her father says
Taiwanese pop singer Selina Jen's (任家萱) fiance has no intention of changing their wedding plans, even though she sustained serious burns, her father Jen Ming-ting (任明廷) said.
Jen Ming-ting told Chang Cheng-chung (張承中), a 38-year-old lawyer who had planned to marry Selina, of popular girl band S.H.E, in April, that it was OK to cancel the wedding.
"Although you two are engaged, Selina is not what she used to be," Jen recalled telling his would-be son-in-law on the day the two of them visited Selina shortly after the accident.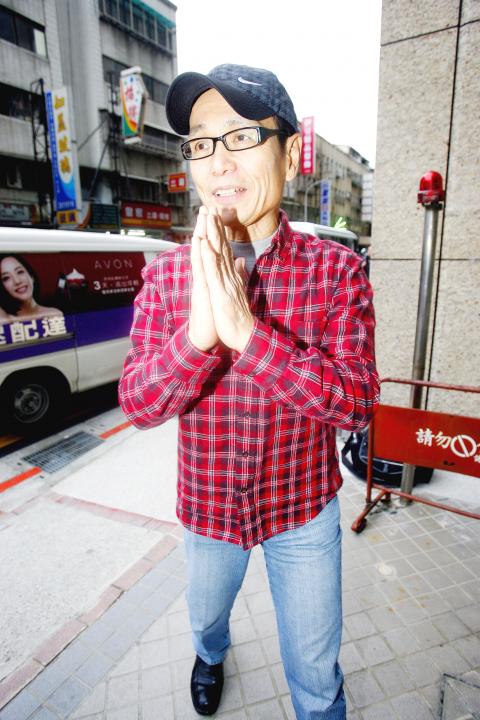 Jen Ming-ting, the father of singer Selina Jen, thanks reporters for their concern on Wednesday in Taipei.
Photo: Chen Chun-jung, Taipei Times
"I would totally understand if you wanted to cancel the engagement," he said.
Chang, however, refused to do so and visited Selina every day over the past several months when she was hospitalized in a hospital near Taipei, Jen Ming-ting said.
On Wednesday, 29-year-old Selina made her first public appearance after she was injured in Shanghai, China, during the shooting of an explosion scene for a television show.
Although she was discharged from the hospital one day earlier than scheduled, Selina still has a long period of rehabilitation ahead of her to deal with her scars and wounds, one of her doctors said.
The singer's father was relieved to find out from a doctor during his visit to Shanghai that the accident had not made his daughter infertile.
"I was worried about her ability to give birth," Jen Ming-ting said. "I had to think for Chang. Fortunately, the most serious injuries are on the legs. Her voice and the other issues I was concerned about turned out to be alright."
Jen Ming-ting also described his future son-in-law as "most reliable."
Chang called for more space for Selina in a statement last week.
He also blasted the TV director and the film crew for failing to explain how the accident occurred.
Selina's record company said it was in talks with the shooting team and a local TV station over the cause of the incident and compensation.
News of Selina's accident in Shanghai left her fans in utter shock and shook up the entertainment industry over the lack of safety measures for actors.
Selina became a household name in the Chinese-speaking community worldwide in 2001, when S.H.E shot to fame after their first album sold more than 750,000 copies.
Comments will be moderated. Keep comments relevant to the article. Remarks containing abusive and obscene language, personal attacks of any kind or promotion will be removed and the user banned. Final decision will be at the discretion of the Taipei Times.