US anxiously awaiting Hu visit
BATED BREATH: China watchers are waiting to see if the Chinese president will speak at length about Taiwan, as he did during his last visit to Washington in 2006
Washington was anxiously awaiting the arrival of Chinese President Hu Jintao (胡錦濤) yesterday for a state visit that may be long on pomp and ceremony, but short on achievement and substance.
Top officials are adamant that the US will continue to sell arms to Taipei no matter what proposals Hu makes.
Even though Hu will be honored with a 21-gun salute and a black-tie White House dinner, US President Barack Obama and his closest aides remain unsure and suspicious of Chinese intentions and motivations.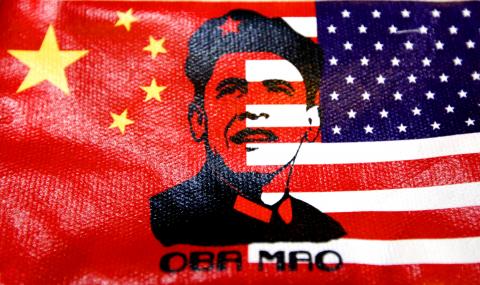 The cover of a wallet bearing an image of US President Barack Obama's face, in place of the usual image of China's Chairman Mao Zedong, is pictured at a souvenir shop in Beijing yesterday.
Photo: REUTERS
Within the administration, there is even doubt about just how much internal power Hu really has.
It is being widely reported in US media that Hu may be the weakest leader of the Chinese Communist Party era.
According to the New York Times, Obama's advisers have concluded that Hu "is often at the mercy of a diffuse ruling party in which generals, ministers and big corporate interests have more clout, and less deference, than they did in the days of Mao [Zedong (毛澤東)] or Deng Xiaoping (鄧小平)."
"Years of waiting for China to play a more constructive role have given way to the realization that American and Chinese national interests may simply be too divergent for the two to create a meaningful partnership," American Enterprise Institute academic Michael Auslin said.
Meanwhile, the Washington Post forecast: "The Obama administration plans to use the summit to refocus attention on China's record on human rights and political freedoms after spending much of the past two years seeking to engage the Chinese leadership on a broad array of global issues, including climate change, helping stabilize the global economy and dealing with the nuclear ambitions of Iran and North Korea."
The biggest announcement to come out of the visit could involve new contracts for Beijing to buy tens of billions of US dollars in US goods, including civilian aircraft.
During his last visit in 2006, a Falun Gong protester broke through a security cordon to heckle Hu and an interpreter announced the Chinese national anthem as that of the "Republic of China," the official name of Taiwan.
The White House is determined that there will be no such snafus this time.
During that first visit, Hu also spoke at some length about Taiwan and there is considerable interest in whether he will do that again.
It has been widely reported that in his answers to written questions from the Wall Street Journal and the Washington Post — published this week — Hu did not mention Taiwan.
The Washington Post said on Monday that the consensus among China watchers was that the chances of Obama and Hu finding a resolution to such sensitive issues as the Chinese currency, North Korea or Taiwan were unlikely.
Hu is expected to press the US to ease its ban on technology exports and seek assurances that US markets will remain open to Chinese goods.
Bonnie Glaser, an academic with the Center for Strategic and International Studies, has told the Washington Post that the Obama administration would like some "concrete deliverables" to demonstrate that the president's China policy is effective and producing results.
She said that at the end of the summit, a statement might be issued that "reaffirms both leaders' commitment to promoting a positive, cooperative and comprehensive bilateral relationship and to working together on a vast agenda of issues."
Comments will be moderated. Keep comments relevant to the article. Remarks containing abusive and obscene language, personal attacks of any kind or promotion will be removed and the user banned. Final decision will be at the discretion of the Taipei Times.