Kids smoking equated with torture
STARTING EARLY The John Tung Foundation said people who start smoking before they are 15 years old are eight times more likely to get lung cancer
Parents who give cigarettes to their children are not only breaking the law, but are also torturing their children and should be heavily penalized, the John Tung Foundation said yesterday.
The foundation also publicized videos in which parents or other adults were seen providing cigarettes to children and babies and laughing as they smoked or coughed after inhaling the smoke.
Photos and videos of young children smoking cigarettes have been posted on the Internet recently.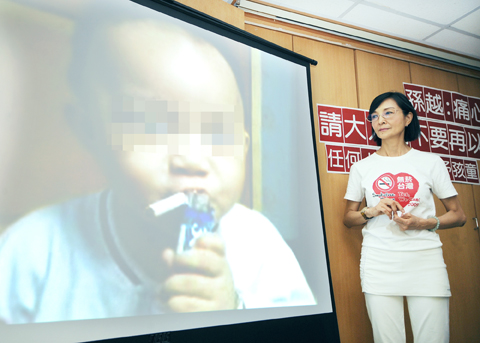 Entertainer Chen Shu-li, a volunteer at the John Tung Foundation, plays a video featuring a child smoking a cigarette during a press conference yesterday. The foundation called on adults not to teach their children to smoke.
PHOTO: LIAO CHEN-HUEI, TAIPEI TIMES
Lin Ching-li (林清麗), head of the foundation's Tobacco Hazard Prevention Section, said that in the past four days, the foundation had received more than 20 complaints concerning videos posted by adults who let children smoke cigarettes.
Many of the videos are posted on Internet video sites and popular blog sites and can be found under categories such as "family entertainment" or "learning and growing," she said.
The foundation said such parenting behavior was irresponsible and was no different from people who record themselves torturing animals and post the video on Web sites.
Parents who allow or even force their children to smoke cigarettes are damaging their children's health and skewing their children's behavior, it said.
The foundation said studies showed that the younger a person starts smoking, the more difficult it will be for that person to quit the habit.
People who start smoking before they are 15 years of age are also eight times more likely to develop lung cancer, the foundation said.
"Parents should realize that they are responsible for their children's welfare," Sun Yue (孫越), a ­celebrity who is now a volunteer at the foundation, said. "Parents should not find entertainment or happiness at the expense of their children's health."
The foundation said adults who provide tobacco to children were in violation of the Children and Youth Welfare Act (兒童及少年福利法), an offense punishable by a fine of between NT$10,000 and NT$50,000.
Comments will be moderated. Keep comments relevant to the article. Remarks containing abusive and obscene language, personal attacks of any kind or promotion will be removed and the user banned. Final decision will be at the discretion of the Taipei Times.