Environmentalists take aim at nuclear industry
TOWN AND COUNTRY One activist said city dwellers benefit most from the development of nuclear energy but the inhabitants of remote areas suffer its consequences
People in a busy shopping district in Taipei yesterday afternoon had a shock when they saw what looked like Taiwan Power Co (Taipower) employees in full protective suits moving a yellow barrel with a radiation hazard sign and the words "radioactive waste" on it.
In reality, it was a skit by environmentalists to raise public awareness of the dangers of nuclear energy.
"Excuse us! Excuse us! We have a situation here!" a man said as he walked onto a square in front of one of Zhongxiao Fuxing MRT Station's exits.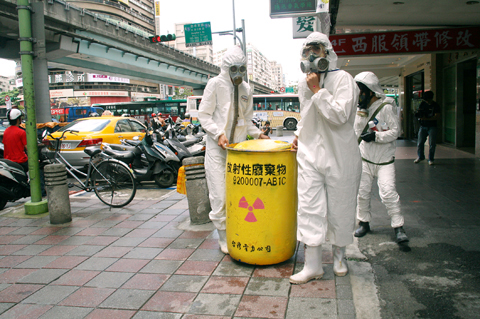 Environmental activists dressed in protective suits handle a fake nuclear waste barrel in a busy shopping district near Zhongxiao Fuxing MRT station in Taipei yesterday in an attempt to raise public awareness on the risks of nuclear power.
PHOTO: LOA IOK-SIN, TAIPEI TIMES
An ID tag around his neck identified him as Lee Ming-she (李民熙), a nuclear engineer at Taipower's First Nuclear Power Plant.
In Lee's wake were four people wearing white protective suits carrying a yellow barrel with its mysterious contents.
As the four walked, they tripped and overturned the barrel.
They immediately blocked off the area with traffic cones and yellow gauze.
They then distributed small red stickers bearing the word "iodine" to passersby.
"We're giving you iodine pills because they can help reduce the impact of radiation exposure," one of them said.
"We were told by our superiors to carry the nuclear waste here, I cannot give further information," Lee said. "I cannot tell you exactly what we will do next."
Many passersby looked surprised and some stopped to look.
"Is this some kind of drill?" a man asked.
"Are they shooting a movie?" a woman asked.
Lee is not a Taipower engineer and his real name is Hung Shen-han (洪申翰). He is the executive secretary of the Green Citizens' Action Alliance.
"At the moment, all nuclear waste is temporarily stored on Orchid Island [蘭嶼] in Taitung County, and Taipower is having some difficulties finding a permanent storage site," Hung told the Taipei Times after the skit.
Under current plans, Nantian Village (南田) — a Paiwan Aboriginal village in Taitung County's Daren Township (達仁) — is most likely to be selected as a permanent storage site.
"People living in cities are the ones benefiting most from nuclear energy and it is people in remote areas who suffer the consequences," Hung said.
"We can't pretend that highly pollutant and radioactive nuclear waste doesn't exist just because we dump it on some remote island or in Aboriginal villages," he said.
"We're here to remind people in Taipei that nuclear energy is not the solution," he said.
Comments will be moderated. Keep comments relevant to the article. Remarks containing abusive and obscene language, personal attacks of any kind or promotion will be removed and the user banned. Final decision will be at the discretion of the Taipei Times.