Chinese tourists flocking to Taiwan in droves, impact felt most in shopping
POURING IN Not only is the number of Chinese tourists coming to Taiwan increasing, the tourists are also spending more on shopping than their Japanese counterparts
China's second-largest direct marketing company, Perfect (China) Commodity Co, is in the process of sending 130 tour groups, consisting of a total of 5,200 people, to Taiwan over a five day period.
While this may seem like a lot of people, statistics from the Tourism Bureau paint a different picture of Chinese tourists.
On Wednesday, the bureau released a report on the spending habits of tourists who visited Taiwan last year.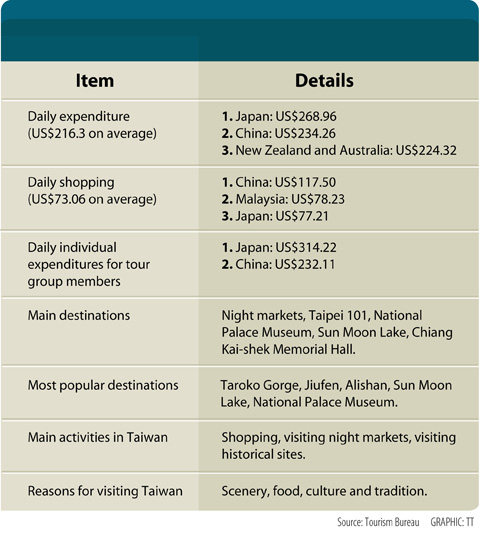 The report showed that Chinese tourists spent more on shopping here than Japanese tourists, spending an average of US$117 per day, approximately equivalent to NT$3,800, which was 50 percent more than tourists from Malaysia, who were listed as spending the second most on shopping.
However, the report showed that Japanese tourists spent the most on accommodation and food, spending an average of NT$10,000 per day in these areas, which was 35 percent more than tourists from China.
According to the report, one million Japanese tourists visited Taiwan last year, which was a drop off of approximately 8 percent from 2008.
Japanese tourists still contributed the most foreign income to Taiwan's economy, accounting for a total of NT$60 billion, the report showed.
Chinese tourists were listed as second, with 970,000 ­visiting Taiwan, almost double the number in 2008, bringing in approximately NT$51 billion.
The bureau's statistics showed that after the decision two years ago to allow Chinese tourists to travel to Taiwan, the increase in Chinese tourists has corresponded to a drop in the overall amount of money spent by tourists in Taiwan.
The bureau said that with the increase in the number of Chinese tourists to Taiwan, the influence of their expenditures on Taiwan's economy has increased.
The Chinese tourists who initially visited Taiwan were those with high incomes, but now lower income Chinese are coming and this has naturally led to a decrease in the overall spend per tourist.
The report showed 4.39 million people visited Taiwan last year and spending a total of US$6.8 ­billion (NT$219 billion), an increase of approximately 14 percent and the highest amount Taiwan has ever made from tourism.
The report also showed that last year, tourists who came to Taiwan for business, in tour groups and those who visited individually spent an average of US$216, approximately NT$7,000 per day, on accommodation, food, transport and shopping.
Meanwhile, the first tour group from Perfect (China) Commodity Co, made up of 440 people, arrived at Kaohsiung Siaogang Airport on Thursday and proceeded to travel by bus to Kenting and elsewhere.
However, the nine-day trip to Taiwan does not include Kao­hsiung and Tainan. When asked, tour members said they didn't know whether political factors were a factor.
Comments will be moderated. Keep comments relevant to the article. Remarks containing abusive and obscene language, personal attacks of any kind or promotion will be removed and the user banned. Final decision will be at the discretion of the Taipei Times.