Beached whales released back to sea
Seventeen pygmy killer whales were returned safely to the ocean yesterday after becoming stranded on the beach near Hsinta Port (新達) in Kaohsiung County, the Forestry Bureau said.
The bureau said in a statement that it received a report at 11pm on Sunday that 21 whales were stranded on the beach near the port.
The bureau sent Wang Jiann-ping (王建平), director of Taijiang Cetacean Rescue Center (台江鯨豚救援中心), to direct the rescue operations.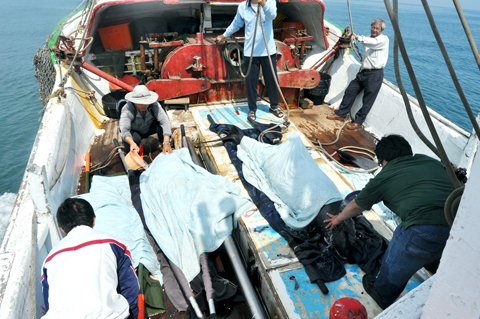 Workers from the Coast Guard Administration and other government agencies yesterday cover 11 young pygmy killer whales with wet blankets.
PHOTO: SU FU-NAN, TAIPEI TIMES
Led by a speed boat from the Kaohsiung Fire Department, the 21 stranded pygmy killer whales attempted to swim back out to sea.
However, 15 of the whales were washed back to the beach again by large waves at around 3am yesterday, including four that had already died.
The remaining whales were then carried out to open waters by boats and released, the bureau said.
Wang said in an interview with the Central News Agency that a pod of pygmy killer whales ­generally has about 10 to 20 members, adding that they are most likely to be seen near the beaches of the southwest coast from October to March.
Wang also said that the sizes of the stranded whales varied from less than 1m to 2m.
He said that they probably belonged to the same pod, and it was unclear why they had become stranded.
According to the Forestry Bureau, pygmy killer whales mainly live in tropical seas.
They can be found in Honshu, Japan, Taiwan, the Philippines, Malaysia and Indonesia.
The bureau also said that the body length of a newborn pygmy killer whale is about 80cm, and can grow to 2.1m to 2.6m.
Pygmy killer whales weigh between 110kg and 170kg.
As research on the whales is scarce, the bureau said that scientists only know that they live mainly on fish and squid.
Last month, the Forestry Bureau released a wounded pygmy sperm whale, which was found stranded in Kaohsiung in January, back to sea. Scientists installed a tracking device on the whale to study the species.
Comments will be moderated. Keep comments relevant to the article. Remarks containing abusive and obscene language, personal attacks of any kind or promotion will be removed and the user banned. Final decision will be at the discretion of the Taipei Times.