Siraya demand recognition
Siraya Aborigines in Tainan yesterday filed an administrative lawsuit against the Tainan City Election Commission for disqualifying them from running in the year-end city council election on the Aboriginal ballot.
Preparatory court meetings took place yesterday for two separate lawsuits filed by Siraya Cultural Association chairwoman Uma Talavan and the Tainan County Government — the only government authority that currently recognizes the Sirayas as an Aboriginal tribe — against the Tainan City Election Commission over its decision to deny a Siraya candidate the right to run on the Aboriginal ballot.
Although the registration process for the election has not yet started, the election commission informed the association in writing that a Siraya candidate would not be eligible to run as an Aborigine, Talavan told a press conference before she entered the courthouse.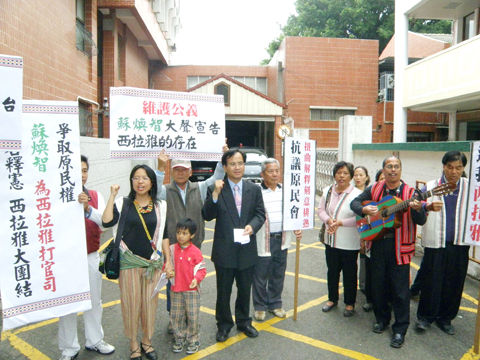 Tainan County Commissioner Su Huan-chih, center, joins a demonstration in Tainan City yesterday calling for recognition of the Siraya Aboriginal tribe.
PHOTO: WANG CHUN-CHUNG, TAIPEI TIMES
"We don't know what the outcome will be, but I am glad that at least the court has decided to hear the case," Talavan said.
"We will present all the necessary documents and evidence to prove that Sirayas are an ­Aboriginal tribe, and hopefully the court will rule in our favor. If so, this would be a milestone ruling," she continued.
The Siraya are an Aboriginal tribe that live mostly in southern Taiwan.
Despite being recognized by authorities before the 1950s, the Siraya forfeited official recognition in that decade when they failed to register their Aboriginal identity before a deadline set by the government. For nearly 60 years, the Siraya have been deemed to have "voluntarily abandoned" their ethnic identity.
Many Sirayas — along with members of other tribes who also lost official recognition — have been fighting for recognition ever since. Many claim that they never received any official announcement about the ethnic registration, while others, including Talavan, say that ethnicity is not something that can be abandoned voluntarily or otherwise.
Comments will be moderated. Keep comments relevant to the article. Remarks containing abusive and obscene language, personal attacks of any kind or promotion will be removed and the user banned. Final decision will be at the discretion of the Taipei Times.