Low birth rate risk to pediatrics
DROPPING Medical school graduates have shown little interest in pediatrics, so much so that the number of recruits is far below the cap set by hospitals
The nation's persistently low birth rate will have a negative impact on its pediatric services industry, a panel of pediatrics said yesterday on the eve of Children's Day, urging the government to pay more attention to the children's medical care system.
Children Health Promotion Society president Lee Hung-chang (李宏昌) said the nation's birth rate has hit a new low — 1.05 children are born per woman, the lowest in the world.
Such figures could trigger a wave of closure for many sectors, including kindergartens, babysitting services and pediatrics. Major hospitals and the government could downsize their budget for children's medical services because of the small number of people served, he said.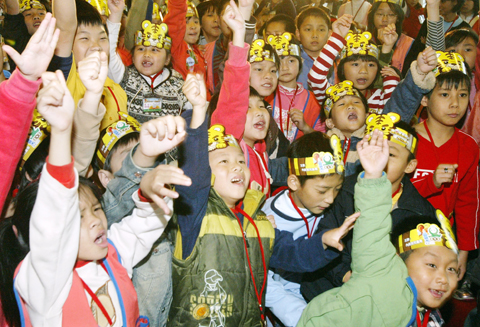 Children who suffered as a result of last year's Typhoon Morakot take part in a gift giveaway at Taipei 101 yesterday as part of celebrations for Children's Day organized by the Ministry of the Interior.
PHOTO: CNA
Speaking at the newly opened National Taiwan University (NTU) Children's Hospital yesterday, Lee said that while the building currently houses several playrooms and children's libraries, "sooner or later the hospital, for the sake of profit, might have to convert spaces into adult ailment clinics or a Starbucks."
Medical school graduates are also becoming disinterested in pediatrics, he said. Each year, the Department of Health sets the hiring cap of new pediatricians at 240, but in reality, only about 84 recruits sign up. Even big hospitals, such as NTU hospital, MacKay Memorial Hospital and Chang Gung hospital, are barely scraping by.
Lu Hong-chi (呂鴻基), a pediatrician for five decades and a leading figure in local pediatrics, said the government cannot afford to take children's health lightly because "children are the future."
Citing Article 1 of the UN Convention on the Rights of the Child, which defines "children" as persons up to the age of 18, 23.3 ­percent of Taiwan's population are considered children, Lu said.
Of that number, between 20 percent and 25 percent suffer from some form of chronic illness, he said, stressing the importance of pediatric care.
Lu said Taiwan should follow Finland and Canada's example of offering pediatric care at little to no cost because "many parents of small children are young people who cannot afford expensive healthcare for their offspring."
NTU pediatrician Lu Meng-you (盧孟佑) said children with cancer usually have a better survival rate than adults and a higher chance of becoming contributing members of society.
By pouring more resources into children's medical care now, the government and society as a whole would save money in the long run, he said.
Comments will be moderated. Keep comments relevant to the article. Remarks containing abusive and obscene language, personal attacks of any kind or promotion will be removed and the user banned. Final decision will be at the discretion of the Taipei Times.