Housing subsidy draws protests
FEELING EXCLUDED The Ministry of the Interior's program for newlyweds has caused resentment among single women, gays and the elderly
Several civic groups yesterday staged a demonstration outside the Ministry of the Interior, protesting that a program to subsidize the mortgage or rent payments of newlywed couples neglects the needs of same-sex couples, singles and the elderly.
"When I first heard about the program last year, I was glad that I could finally afford to buy a place for myself and my mother, but looking into the details found I wasn't qualified," said Chen Mei-yi (陳玫儀), a single woman who lives with her elderly divorced mother in a small, 20-year-old, rented apartment.
"I am a citizen, I pay taxes. Why should I be excluded?" she asked.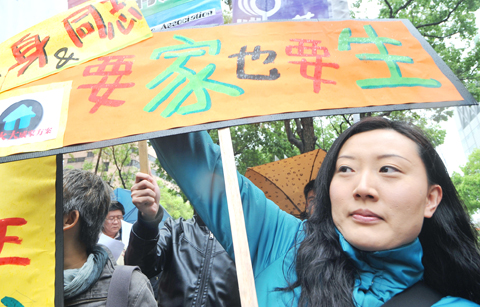 Civic groups protest outside the Ministry of the Interior yesterday against a program that subsidizes the mortgage or rent payments of hetrosexual newlyweds, but not those of same-sex couples, singles or the elderly.
PHOTO: LIU HSIN-DE, TAIPEI TIMES
Chen was referring to a youth housing subsidy program the ministry announced last year that aims to help people aged between 20 and 40 with a NT$2 million (US$62,800) zero-interest mortgage for up to two years, or a monthly rental subsidy of up to NT$3,600 also for up to two years.
However, only heterosexual couples married for less than two years are eligible.
Dozens of gays, divorcees and the elderly also took part in yesterday's protest.
Lin Shih-hsuan (林蒔萱), deputy executive director of the Warm Life Association Taipei, an organization dedicated to helping divorced women, said that while the government came up with the program to encourage marriage, "they should also think about those who have left marriages."
"A lot of women divorce as they get older. They re-enter the job market and in many cases have to find a place of their own," Lin said. "They shouldn't be left alone."
Lu Hsin-chieh (呂欣潔), policy advocacy director of the Taiwan Tongzhi Hotline Association, which serves the lesbian, gay, bisexual and transgender (LGBT) community, said politicians were only friendly to them during election campaigns.
"LGBT groups represent a good 10 percent of the population, and they deserve something more concrete," Lu said.
Responding to the complaints at a separate setting, Minster of the Interior Jiang Yi-huah (江宜樺) said that the subsidy program was specially designed to cater to the needs of young newlyweds so that they can find a home before starting a family.
"We also have a comprehensive housing subsidy program that offers the same help for low-income families, and everybody — including single people, divorcees and the elderly — can apply for it," the minister said.
However, Jiang said that the government could not offer such help to married gay couples as such marriages are not recognized in the Civil Code.
"The root of the issue lies in the Civil Code. If one day, the public and the legislature agree to revise the definition of marriage in the Civil Code to recognize gay marriage, then of course we would do something to help," Jiang said. "But before that happens, we there is nothing we can do."
Comments will be moderated. Keep comments relevant to the article. Remarks containing abusive and obscene language, personal attacks of any kind or promotion will be removed and the user banned. Final decision will be at the discretion of the Taipei Times.