INTERVIEW: Business council head laments decision on US beef
DENIAL The US-Taiwan Business Council president dismissed fears that the US has sought China's cooperation at the expense of its relationship with Taiwan
Taiwan's recent about-face on US beef imports has not only hurt bilateral commercial ties with the US but also marred Taiwan's reputation as a responsible trade partner, US-Taiwan Business Council president Rupert Hammond-Chambers said on Monday.
After a "cooling down" period as the controversy loses steam, President Ma Ying-jeou's (馬英九) team as well as the US meat industry should increase their efforts to promote the safety aspect of the meat to quell public concerns about US beef, he said, swatting away the Democratic Progressive Party's (DPP) proposal to restart negotiations.
"[New negotiations] would be an absolute non-starter. It would only take a bad situation and make it worse and its shows poor faith on the DPP's part," he said in an interview on Monday.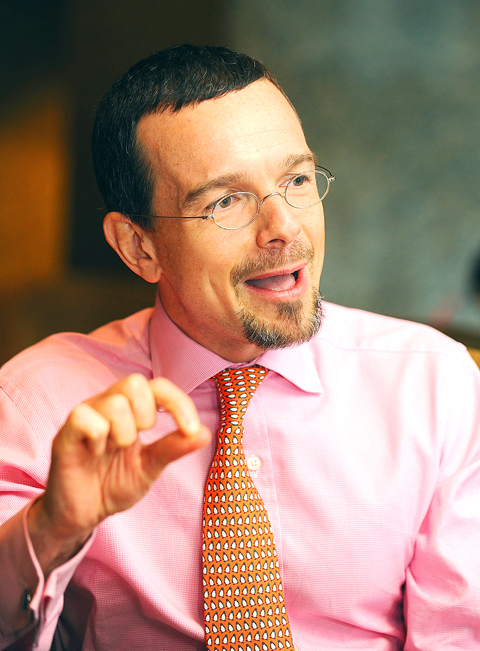 US-Taiwan Business Council president Rupert Hammond-Chambers talks to the Taipei Times in Taipei on Monday.
PHOTO: FANG PIN-CHAO, TAIPEI TIMES
Hammond-Chambers said the row over beef could also blemish Ma's credibility as a leader.
"If a country we negotiated a market access protocol with ... can turn around and change aspects of this agreement, it sets a terrible precedent in the region. The challenge for the Ma government is to explain to the US how we are going to satisfy the protocol even though we all know it won't happen soon," he said.
Hammond-Chambers said the precedent set could encourage other countries in the region such as South Korea to follow suit by signing a deal with the US but later backing out, using the legislature as justification
Although critical of Ma's failure to execute the Taiwan-US beef protocol in its entirety, he said the "beef issue" should be uncoupled from the rest of US-Taiwan trade matters and the Trade Investment Framework Agreement (TIFA) should be signed as soon as possible after being "hijacked" for two years due to the discord over beef.
According to the council, beef constitutes 0.78 percent of US exports to Taiwan and 0.01 percent of the overall bilateral relationship.
The council has also been an outspoken critic of the delay in arms sales to Taiwan by the administration of US President Barack Obama, saying that while cross-strait rapprochement is progressing, the relationship still requires strong US rhetorical as well as material support.
Hammond-Chambers said 14 months have passed since the last notification to Congress in October 2008, while there was only a seven-month lag prior to the previous one.
"The Chinese might be opening up their markets to Taiwan and speaking nicely, but they are still putting more missiles in Fujian Province. They are still expanding their military and they continue to make contingencies to attack your country," he said.
"If the economic goodwill and other positive developments don't work out, China still has that and Taiwan needs to be able to counter that. Ma needs support and he has not been getting the support from the Obama administration," Hammond-Chambers said.
He emphasized that selling the necessary defensive weaponry to Taiwan fulfills US security commitments to the country, gives Taiwan the confidence it needs to deal with China and more importantly, sends a clear message that the US is committed to maintaining peace in the region.
Hammond-Chambers dismissed fears held by some that the US has sought China's cooperation on various topics such as North Korea and climate change at the expense of its relationship with Taiwan.
He added that Taiwan's relationship with the US benefits when the US-China relationship is balanced.
"When there is an imbalance in US-China relationship, what tends to happen in Washington is a greater reluctance to do things with Taiwan," he said.
Meanwhile, Hammond-Chambers also said that signing an economic cooperation framework agreement (ECFA) would dramatically reduce the ability of the Chinese to oppose Taiwan making other regional agreements because China "has gone ahead and done it."
"I believe President Ma has at least increased the likelihood that Taiwan will be able to sign bilateral agreements with other economies, possibly ASEAN economies like Singapore and Thailand," he said.
He said the Ma government's decision to engage China on an economic agreement was the soundest approach to both reducing tension in the Taiwan Strait and creating momentum with China.
Asked whether an ECFA with China that provides preferential access for Taiwanese companies would have a negative impact on US interests, Hammond-Chambers said that it would be a challenge for both the US and other countries.
The council will continue to watch what happens to the ECFA before making a judgment call on what sort of impact it would have on US commercial interests, Hammond-Chambers said.
He also praised the previous administration under former president Chen Shui-bian (陳水扁) for its efforts to dramatically improve the intellectual property rights (IPR) environment in Taiwan.
"It is a huge competitive advantage for Taiwan because IPR protection created an environment that's more attractive for high-end technology investment here than it is in China," he said.
As long as the Ma administration remains committed to building on what its predecessor achieved on IPR, a more integrated Taiwan-China economic market will put Taiwan in a better position to take advantage of higher-end technology in China, he said.
ADDITIONAL REPORTING BY TED YANG
Comments will be moderated. Keep comments relevant to the article. Remarks containing abusive and obscene language, personal attacks of any kind or promotion will be removed and the user banned. Final decision will be at the discretion of the Taipei Times.