Political camps trade blows on gangster connections
The recent controversy over alleged links between criminal figures and politicians showed no signs of abating yesterday, as pan-blue and pan-green legislators continued to trade accusations over who had closer ties with a Nantou County convict.
Chinese Nationalist Party (KMT) Legislator Chang Hsien-yao (張顯耀) threw the first blow, telling a press conference that a number of Democratic Progressive Party (DPP) figures had been close to Chiang Chin-liang (江欽良), a paroled former gangster from central Taiwan.
Chang showed reporters four pictures that showed DPP Legislator Tsai Huang-liang (蔡煌瑯), former DPP legislators Lin Yun-sheng (林耘生) and Tang Huo-shen (湯火聖), former Nantou County commissioner Lin Tsung-nan (林宗男) and former Tsaotun Township chief Hung Tun-jen (洪敦仁) accompanying Chiang.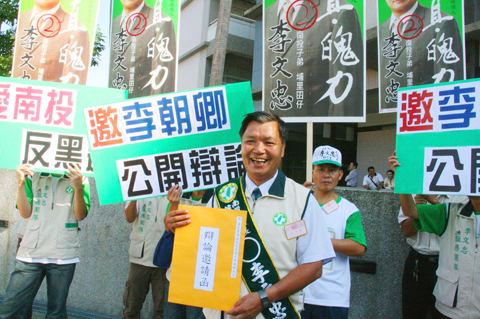 Democratic Progressive Party candidate for Nantou County commissioner Lee Wen-chung, front, holds up a traditional invitation to incumbent commissioner Lee Chao-ching of the Chinese Nationalist Party (KMT) in Nantou County yesterday. Lee Wen-chung challenged Lee Chao-ching to hold a debate on county political and administrative issues.
PHOTO: CNA
Chang said one of the pictures was taken at the inauguration of a night market in central Taiwan on Sept. 16, 2002, with Chiang and Lin Tsung-nan designated VIPs at the event, which Chang said Hung, Tsai and Tang also attended.
Another picture was from 2004 and showed Chiang holding a campaign meeting for Lin Yun-sheng when he was running for the legislature, Chang said.
Chang's move came after DPP Nantou County commissioner candidate Lee Wen-chung (李文忠) last week accused Premier Wu Den-yih (吳敦義) of having close ties to Chiang.
Local media showed images of Wu and his wife vacationing in Bali, Indonesia, with Nantou County Commissioner Lee Chao-ching (李朝卿) and Chiang.
Wu on Tuesday filed a lawsuit against Lee for alleging that Wu arranged gravel business contracts during the trip.
In response to Chang's allegation, DPP Legislator William Lai (賴清德) yesterday accused the KMT of trying to shift the focus away from the premier.
Lai said that if Chang's allegation were true, then Lee's allegation could also be true because Chiang, Lee and Wu's wife were also caught on camera as they attended an inaugural ceremony of a night market in Nantou.
"If the KMT's allegations make any sense, then it's just as correct to say Wu Den-yih, Lee Chao-ching and Chiang Chin-liang toured Bali together to make secret deals," Lai said.
Meanwhile, the DPP's Central Standing Committee (CSC) yesterday ruled unanimously to recommend the Central Disciplinary Committee expel the DPP's Caotun Township (草屯) office head, Huang Wen-chun (黃文君), for making false allegations against Lee Wen-chung. Huang told a press conference on Saturday that Lee Wen-chung turned against Chiang after trying but failing to garner Chiang's support.
DPP Spokesman Tsai Chi-chang (蔡其昌) said Huang's action had harmed the party and a decision on her expulsion would be made at the next Central Disciplinary Committee meeting on Nov. 26. Huang will also be invited to make her case, he said.
ADDITIONAL REPORTING BY JENNY W. HSU
Comments will be moderated. Keep comments relevant to the article. Remarks containing abusive and obscene language, personal attacks of any kind or promotion will be removed and the user banned. Final decision will be at the discretion of the Taipei Times.