INTERVIEW: Dalai Lama puts democracy above economy
After the disaster that followed Typhoon Morakot, Tibet's spiritual leader the Dalai Lama traveled from Dharamsala, India, to Taiwan to pray for the victims after accepting an invitation from seven mayors and county commissioners in southern Taiwan. The Chinese Nationalist Party (KMT) government set the tone for the visit by announcing that no top government officials would meet with the Dalai Lama. Staff reporter Hsieh Wen-hua met the Dalai Lama in Dharamsala on Oct. 18, where the spiritual leader said that democracy and freedom are more important than economic interests
Liberty Times: If you compare your first two visits to Taiwan [in 1999 and 2001] with this visit, do you feel that Taiwan has changed? Was there anything that left a particularly deep impression?
Dalai Lama: The main difference between this and the previous two visits was that this visit was the result of an invitation from the typhoon-disaster areas. I came to pray for the disaster areas, so this was a different experience. Personally, I felt sadness after arriving in the disaster area. On the other hand, I was able to travel to Taiwan and to pray with fellow believers and [Buddhist] masters. From this perspective, I also felt quite happy.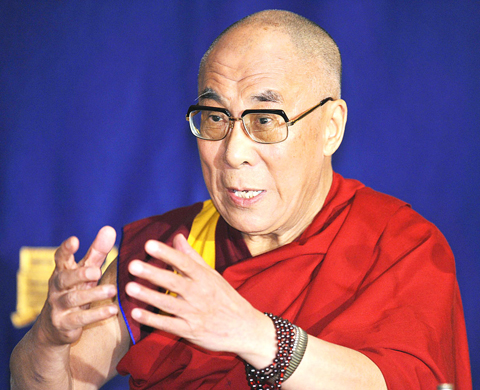 Tibetan spiritual leader the Dalai Lama speaks to the press in Tokyo yesterday.
PHOTO: AFP
In the beginning, when I had just arrived in Taiwan, some media outlets were a bit hesitant and there were also some negative reports and some protests [laughs]. On one hand, I felt that these protesters were a bit silly, but on the other hand, they made me happy because they were able to take advantage of Taiwan's freedoms. Afterwards, I told them it would be even better if they could bring that freedom to China [laughs].
A few days after I arrived in Taiwan, media coverage became more and more positive, maybe because they understood better why I was there. After I returned to India, [a representative of] Taiwan's Mainland Affairs Council said in a public talk that "the Dalai Lama's visit had no impact on cross-strait relations." I felt comforted and happy to hear that.
LT: In the past, politicians rushed to meet you, but this time they all avoided you. What do think about that? Do you feel the atmosphere in Taiwanese society has changed?
DL: I didn't feel there was anything strange about it and I didn't think there were any surprises. Cross-strait relations have been strengthened lately and because of this, Taiwan has also received some concrete benefits. In addition to economic benefits, the public's fear of the Chinese Communist Party (CCP) has also been somewhat alleviated. For example, China's firing missiles at Taiwan, that used to be one fear, but that is also disappearing gradually.
Politicians, of course, we all know that politicians have their concerns because they want to protect their own interests and to strengthen cross-strait ties, and I can understand that.
LT: Some people in Taiwan have grown even more fearful of the current situation and they feel China wants to speed up the annexation of Taiwan and that President Ma Ying-jeou's (馬英九) administration keeps talking up China. Do you have any advice on the Taiwan government's cooperation with the CCP and their exchanges?
DL: I've said all along that Taiwan's future should be decided by the Taiwanese people, so those Taiwanese that you just mentioned, those who are more concerned because of these exchanges, they should make themselves heard in public. They should also mention this in public debates. The public must discuss these things, this is very important.
Often when I meet with foreign friends, whether they are in government or non-governmental organizations, whether in the US or in Europe, I repeatedly tell them that it is very important to build a special relationship between Taiwan and China, but when building this special relationship, they must protect Taiwan's democracy. This is a necessity. I also tell these people from free countries that protecting Taiwan's democracy and freedom is the duty of their countries. I say this repeatedly.
LT: Because countries place economic concerns and national interests first, they tend to use "selective democracy." For example, at any given moment, they keep their distance from the Dalai Lama. Simply put, every country around the world has to take note of what China does when they decide whether or not to meet with you, or with exiled Uighur leader Rebiya Kadeer. Do you feel this is a matter of democratic regression amid civilizational progress?
DL: Many things that occur in the world are good, and many of these things are interconnected and interrelated. There is a Buddhist principle of cause and effect, which says that one event or one thing is connected to many other things and events. These are complicated, very complicated matters [laughs]. I believe this should be discussed in public by experts and academics from different fields, and they should publish articles and engage in dialogue and multifaceted debate. This is very important.
Economic issues are in fact a practical issue, but if we look at it from the perspective of fundamental interests, I feel that a comparison between economic and democratic interests shows that democratic interests are more important. Without democracy, the economy is useless. With democracy, there will be more important developments. Without democracy, there might not be any room for innovation. Without this room for innovation and creativity, economic and cultural development may be faced with even more bottlenecks because in non-democratic states and regions, power is concentrated in the hands of the central government.
LT: When you came to Taiwan, you talked about your hopes that Taiwan will have an impact on Chinese democracy, but even the US is forced to bow its head when dealing with China. Despite your insistence on a peaceful and non-violent approach and the fact that you have held talks with China on 17 occasions, China's armed police last year suppressed the Tibetan people in a tragic and bloody event. Do you still trust the CCP? On what reasoning do you base the view that the CCP's totalitarianism may be relaxed and that China one day may move toward liberal democracy?
DL: It is not an impossibility that the CCP dictatorship will be able to resolve the Tibet issue. It is possible to find things that are in the interests of both parties. We are working hard, but if China were to democratize, maybe the Tibet issue could be quickly and easily resolved. We have met recently with Chinese intellectuals, academics and experts. They all have an enlightened outlook and take a rational view of the Tibet issue. There is currently quite a lot of leeway and that would have been impossible 30 or 40 years ago. At that time, no one dared meet with me and if someone did come, they may well have ended up in a labor camp after they returned [laughs]. That means [the situation] is constantly changing.
In the year since the incident in Tibet, I have met with more than 300 Chinese academics, authors and intellectuals in China and overseas, in Europe, the US and Dharamsala. They all support my advocacy of Tibetan autonomy as the just and middle way. In more than a year since March last year, there have been more than 700 Chinese articles supporting Tibet, some even supporting Tibetan independence.
LT: Is that more than you ask for?
DL: Yes, that falls outside the scope of what I am asking for.
LT: Since the day you were born, you have never had the opportunity to choose your own life. Have you ever thought about what you would have been if you had not been born the reincarnation of the Dalai Lama?
DL: Since I am the Dalai Lama, I am the Dalai Lama. I never thought of anything else. I have three tasks in this life. One is to increase human benevolence, one is to promote harmony between religions. I will do all I can as long as I am alive in regard to these two tasks. The third task is that because I am Tibetan, and because I am the Dalai Lama, I therefore have the duty and the responsibility to speak for the Tibetan people, but because beginning in 2001, the premier of the government in exile has been elected in direct elections, I can now say that in this respect, I am in semi-retirement.
The interview was conducted for the Liberty Times (the Taipei Times' sister paper) in English and back-translated from Chinese.
Comments will be moderated. Keep comments relevant to the article. Remarks containing abusive and obscene language, personal attacks of any kind or promotion will be removed and the user banned. Final decision will be at the discretion of the Taipei Times.