DPP threatens more action if referendum appeal fails
The Democratic Progressive Party (DPP) said it would take more drastic measures in the coming days if its appeal against the rejection of the party's initiative to hold a referendum on a proposed economic cooperation framework agreement (ECFA) between Taiwan and China is ignored, acting spokesman Chao Tien-lin (趙天麟) said yesterday.
The Central Election Commission (CEC) in late August rejected the DPP's referendum proposal on the grounds that the proposed question was too vague and that holding such a plebiscite did not conform with the law.
It also said a referendum should only be conducted on an existing situation, which wasn't the case because an ECFA had yet to be signed.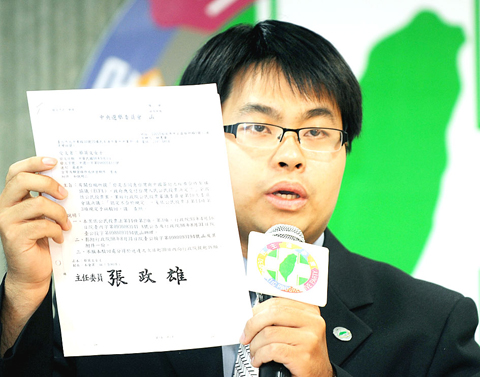 Lawyer Huang Ti-ying, representing the Democratic Progressive Party (DPP), displays a letter from the Central Election Commission that says it can only review the DPP's referendum proposal on an economic cooperation framework agreement with China in terms of procedure and not content.
PHOTO: FANG PIN-CHAO, TAIPEI TIMES
"The DPP strongly opposes the CEC's conclusion and demands a second review as permitted by the rules of procedure. Whether a referendum on an ECFA is to be held must be decided by the people, not by a review committee," Chao said.
Chao said an ECFA's impact on the country would not be limited to the economy.
It would deal a severe blow to Taiwan's politics and sovereignty, he said.
The party accused President Ma Ying-jeou's (馬英九) administration of hiding the truth about an ECFA by persistently refusing to release the details of the proposed agreement.
The damage caused by an ECFA could be irreversible if the referendum were held one year after it goes into effect, the DPP said.
The DPP's appeal contained more than 13,000 characters, 100 times more the court rejection letter provided by the committee, Chao said.
'TOO SENSITIVE'
Meanwhile, former premier Frank Hsieh (謝長廷) blasted Beijing for blocking his planned visit to Vietnam, where he was scheduled to speak to a group of Taiwanese businesspeople.
Hsieh was scheduled to depart for the Southeast Asian country yesterday afternoon, but his application for a visa was initially rejected.
Speaking on a pan-green radio show yesterday, Hsieh said the Vietnam Economic and Cultural Office in Taipei told him the timing was "too sensitive" because of China's National Day on Oct. 1.
Hsieh said late yesterday afternoon that he had been informed his application was approved at the last minute, but that he had already decided to cancel the trip because the matter had deeply upset him.
Comments will be moderated. Keep comments relevant to the article. Remarks containing abusive and obscene language, personal attacks of any kind or promotion will be removed and the user banned. Final decision will be at the discretion of the Taipei Times.