PROFILE: Wu Den-yih's extensive experience comes to the fore
LONG AND WINDING ROAD The 61-year-old has been involved in politics since the age of 25 when he and his wife stumped door-to-door on a Taipei City councilor bid
Premier-designate Wu Den-yih (吳敦義) wasted no time in connecting with potential Cabinet members and finalizing his choices after President Ma Ying-jeou (馬英九) announced his appointment on Monday.
Doubling as Chinese Nationalist Party (KMT) secretary-general and vice chairman over the last few years, Wu has worked closely with Ma since his first stint as KMT chairman, and has earned Ma's trust with his competence and political acumen.
In announcing the surprise appointment, Ma lauded Wu for his extensive experience in party and administrative affairs, and said he also chose Wu because of their "familiarity."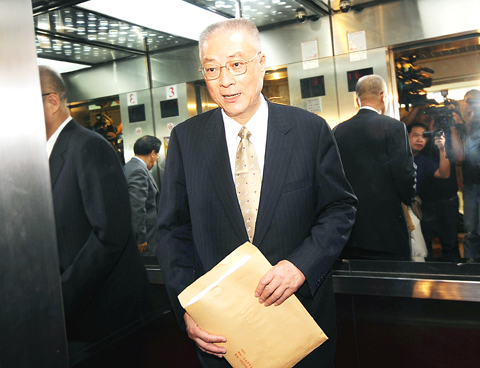 Premier-designate Wu Den-yih enters an elevator in Chinese Nationalist Party (KMT) headquarters in Taipei yesterday.
PHOTO: FANG PIN-CHAO, TAIPEI TIMES
The tightly guarded process of Wu's appointment typifies his style, which is embodied by one of his pet phrases: "I know many things, but I cannot reveal any of them."
Wu, 61, started his career as a reporter at the Chinese-language newspaper the China Times, working briefly as a journalist and editorial writer after graduating from the Department of History at National Taiwan University (NTU).
At the age of 25 he was nominated by the KMT to run for a seat on the Taipei City Council on the basis of an article he had written as a college student. The piece, titled The Cross of NTU Students, impressed then-president Chiang Ching-kuo (蔣經國).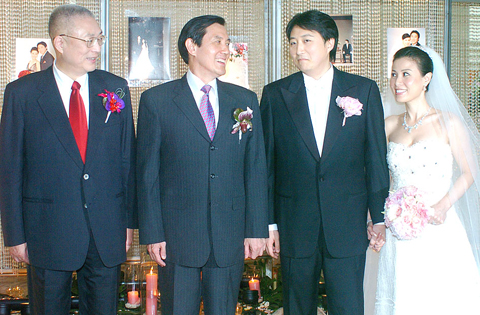 President Ma Ying-jeou, second left, has his picture taken with premier-designate Wu Den-yih, left, and his son Wu Tzu-wen, second right, and daughter-in-law Yen An-ju at the couple's wedding in Taipei on June 14.
PHOTO: WANG MIN-WEI, TAIPEI TIMES
In the absence of election experience, money or renown, Wu relied solely on his "two legs and mouth" for his campaign. He and his wife made door-to-door calls to canvass votes.
His grassroots campaign strategy worked and he won his first-ever electoral bid, becoming the youngest member of the city council, and he has remained in politics ever since.
Wu was part of the KMT's ­campaign in the 1970s to groom native Taiwanese talent to expand its power base, and was entrusted with important positions such as Nantou County commissioner and Kaohsiung mayor. He expanded his support base in southern Taiwan over the years, and won the first direct election for Kaohsiung mayor in 1994, beating the Democratic Progressive Party's (DPP) Chang Chun-hsiung (張俊雄).
Although he lost the second Kaohsiung mayoral election to Frank Hsieh (謝長廷) in 1998, Wu returned to politics soon after by securing a legislative seat representing his native Nantou County in 2002.
He was appointed KMT secretary-­general by Ma in 2007 to help push through his policies. While enjoying popularity in his home base, Wu is often described as a "lonely bird" in the KMT, a politician who has made no connections with any party factions and cares little about building relationships with fellow legislators.
"His lack of personal skills and confrontational personality will be obstacles for him, as he will need to work closely with the legislature and party members," said Shih Cheng-feng (施正鋒), a political commentator from National Tung Hua University.
Shih said Wu shared traits with outgoing premier Liu Chao-shiuan (劉兆玄), who also had a problematic relationship with the KMT-dominated legislature and often comes across as aloof, and said Wu would probably be a "transitional premier" chosen by Ma to help cultivate vice premier-designate Eric Chu (朱立倫) as his successor.
Shih said Wu would be able to implement Ma's policies more efficiently, but added that Wu's new Cabinet may only be of limited help in raising Ma's support rate if the president failed to have his own vision and present better policies for the nation.
KMT Legislator Chu Feng-chi (朱鳳芝) also challenged Ma's choice of Wu, and called on the premier-designate to "be more open-minded."
"I expect our new premier to use his power carefully, be more open-minded and look ahead with the people in mind," she said.
KMT Legislator Lu Hsueh-chang (呂學樟), on the other hand, approved of Wu's capability and integrity, and said he expected his support base in southern Taiwan to be an advantage in the government's reconstruction efforts in the areas hard-hit by Typhoon Morakot.
Taking over the position as premier, Wu pledged to make flood control and soil conservation in mountainous areas his Cabinet's top priority, and promised to step up the pace of the rehabilitation of typhoon victims. His rich experience in local politics and administration could help smooth the post-disaster reconstruction in typhoon-affected regions.
Wu made a quiet visit to Hong Kong last weekend after accepting Ma's job offer to get first-hand information about how the former British colony has dealt with landslide problems.
Despite this, Wu's appointment has already drawn a mixed reaction, but he is unlikely to be fazed by critics.
After all, he has said, "some people see a thorn bush that has roses, while others see a rose bush that has thorns."
ADDITIONAL REPORTING BY CNA
Comments will be moderated. Keep comments relevant to the article. Remarks containing abusive and obscene language, personal attacks of any kind or promotion will be removed and the user banned. Final decision will be at the discretion of the Taipei Times.