Aborigines want say in reconstruction
REPRESENTATION Aborigines said that officials from the Executive Yuan's reconstruction committee should visit the south to discuss reconstruction with them
Aborigines in Kaohsiung County's Namasiya Township (那瑪夏) yesterday asked President Ma Ying-jeou (馬英九) to include them in the government's Aboriginal reconstruction committee so they could have a say in decisions after Typhoon Morakot destroyed sections of villages.
Survivors in Neimen Township (內門鄉), most of whom are Aboriginal, waited for two hours for Ma to arrive.
Holding banners that read "Water diversion project ruined our homes and killed our people" and "Don't let the tribal reconstruction project ruin our tribal lifeblood," typhoon victims chanted "Aborigines want to enter the reconstruction committee."
A woman holds her baby as President Ma Ying-jeou speaks during a grievance hearing session led by residents of Minzu and Mincyuan villages, at a housing center for people evacuated during Typhoon Morakot in Cishan, Kaohsiung County, yesterday. The official toll from Typhoon Morakot stands at 461 dead and 192 missing, and the damage to agricultural production has been put at NT$14.4 billion. It also plunged Ma into his worst crisis since being elected president in May last year.
PHOTO: NICKY LOH, REUTERS
They said the Executive Yuan's reconstruction committee should send officials to the south to discuss the reconstruction project with victim families rather than make the decision by themselves in Taipei.
"We want to go home," they said.
While some residents wished to relocate the village and others wanted to reconstruct the village in the same location, most of them said they were afraid their culture would vanish.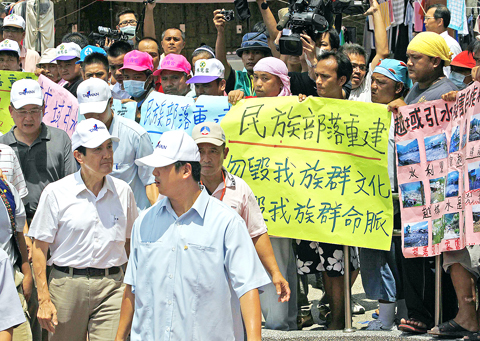 President Ma Ying-jeou, front left, walks past protesters from Minzu and Mincyuan village, at a housing center for people evacuated during Typhoon Morakot, in Cishan, Kaohsiung County yesterday. The yellow placard reads, "Minzu village reconstruction, to prevent the destruction of our culture, give our tribe a chance to survive."
PHOTO: NICKY LOH, REUTERS
Leading officials in a deep bow, Ma apologized for coming too late and said he was there to hear their opinions.
Ma said the government welcomed the Aborigines to participate in the reconstruction committees at both the central and local government levels.
"The resettlement and reconstruction projects are not compulsory," Ma said. "We hope you will make up your mind as soon as possible so we can begin the work."
In Namasiya's Mincyuan Village, Ma led government officials in a deep bow to apologize for the government's shortcomings in relief efforts.
Ma was met with a warm ­welcome and had his photograph taken with residents. He asked them to carefully consider whether they wanted to continue living there as the Council of Agriculture has designated it as a mudslide-prone area.
As the typhoon season is not over, Ma urged them to be ready for the next storm. He said everybody should learn a lesson from the typhoon this time. When mudslides were inevitable, the best remedy was to stay away from danger or be fully prepared for it, he said.
Ma also asked victims to spread the news about the good deeds of the armed forces, saying the criticism about their slow response to the disaster was "unfair" and that the military risked their lives to rescue people the first day after the typhoon hit.
At a different setting yesterday, Ma thanked the US government for its humanitarian assistance in helping the country tackle the challenges posed by Typhoon Morakot.
Ma made the remarks while meeting Oklahoma Governor Brad Henry at the Presidential Office yesterday afternoon.
Describing Typhoon Morakot as the cause of the country's worst flooding and the most rainfall, Ma said the disaster took many lives and caused serious damage to property.
Ma said he was grateful that Washington dispatched heavy-lift helicopters to help transport earth diggers and other machinery into remote mountain areas to re-open roads.
"This is the first time the US military sent help over here to the Republic of China to help us with the rescue and reconstruction work since we terminated the diplomatic relations in 1979," he said.
It was incorrect, however, as the US military offered assistance in the wake of the 921 Earthquake in 1999.
Meanwhile, Control Yuan President Wang Chien-shien (王建煊) yesterday called on Ma and Premier Liu Chao-shiuan (劉兆玄) to return to their posts to map out and coordinate restoration and reconstruction projects.
"Ma and Liu … should return to their offices as soon as possible rather than [staying in disaster zones] to kowtow to, bow before, or hug disaster victims," Wang said.
Wang said that he approved of all these gestures, but "putting on their thinking caps for post-disaster reconstruction is more important."
"For example, many prefabricated houses are being built in disaster zones, despite the opposition of experts. This is what Ma and Liu should be thinking about," Wang said.
He made the remarks after meeting with about 10 representatives of survivors from Kaohsiung County's Siaolin Village (小林), the village worst hit by the typhoon.
Tsai Song-yu (蔡松諭), leader of the group, filed a petition demanding the participation of international professionals in the watchdog's investigation into the destruction of the village by floods and mudslides that left more than 400 dead, most buried under mud.
Representatives of the villages have said that a project conducted by the Water Resource Agency to divert water from Laonong River (荖濃溪) to Zengwon Reservoir (曾文水庫) was one cause of the tragedy and that the Soil and Water Conservation Bureau failed to issue an evacuation warning.
Wang said inviting international professionals to join the Control Yuan's investigation is workable and he would convey the opinions to Control Yuan Vice President Chen Jinn-lih (陳進利), who is in charge of the probe.
ADDITIONAL REPORTING BY SHIH HSIU-CHUAN
Comments will be moderated. Keep comments relevant to the article. Remarks containing abusive and obscene language, personal attacks of any kind or promotion will be removed and the user banned. Final decision will be at the discretion of the Taipei Times.