PROFILE: New Department of Health minister starts with a bang
Incoming Department of Health (DOH) Minister Yaung Chih-­liang (楊志良) raised eyebrows on his first day in office earlier this month when he vowed to collect debt owed to the National Health Insurance (NHI) scheme from local governments.
He also promised to raise insurance premiums.
Yaung's comments were regarded as a slap in the face for Taipei Mayor Hau Lung-bin (郝龍斌), as of a total of NT$60.3 billion (US$1.8 billion) in debts owed to NHI, Taipei City owes the most, at NT$34.7 billion.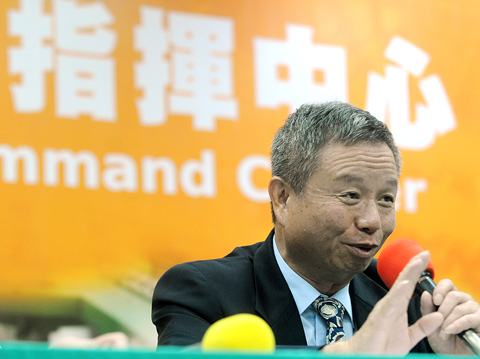 Department of Health Minister Yaung Chih-liang speaks yesterday at the Central Epidemic Command Center's first disease prevention meeting after he became minister. Yaung said use of vaccines that do not meet international standards would not be allowed.
PHOTO: WANG YI-SUNG, TAIPEI TIMES
Also, to help make the NHI a fairer system, Yaung said he favored raising insurance premiums, meaning that those with bigger salaries would pay more.
His vow to increase insurance premiums no doubt irritated many business owners and members of the public, with critics saying raising premiums was unwise given the sluggish economy.
Commenting on Yaung's opening salvo, Asia University honorary professor Wu Kai-hsun (吳凱勳) said Yaung "has been too honest," adding that this risked irritating people.
"While it is normal to adjust National Health Insurance premiums, to do so will require careful communication," Wu said. "I'm afraid Yaung's comments will scare people — especially employers, now that they will have to pay more."
Prior to taking the job, Yaung was vice president of Asia University in Taichung. Yaung was also described as the "godfather" of Taiwan's public health industry after devoting most of his career to teaching.
The vice superintendent of education at Chi Mei Hospital's Liouying branch, Liu Shyun-yeu (劉巡宇), a close friend of Yaung's, described him as a "friendly neighbor" who always keeps himself busy and is full of new ideas.
"He is a down-to-the-earth person who does not get angry easily," Liu said.
Liu said that he and Yaung had known each other since 1998, when Yaung joined the DOH as a deputy minister and Liu was an executive officer and special aide to former minister Steve Chan (詹啟賢).
He said Yaung's priorities did not surprise him at all.
"If he hadn't said those things, he would not be the guy I have known for so many years," Liu said.
Liu said Yaung had talked with him on whether he should accept the position as minister prior to making his decision.
"Yaung vowed to fix the problems at the National Health Insurance because he considers them to be his responsibility, since he was one of the architects of the National Health Insurance plan launched 15 years ago," Liu said.
"Yaung really has guts to say what he said," Liu said.
Liu, however, said that Yaung's announcement on his first day in office was not exactly ministerial behavior and that he could end up making enemies who might threaten his career.
"However, he is doing the right thing," Liu said.
As Yaung's former superior officer, Chan said Yaung's new appointment was "the right post for the right person."
"He is an expert in public health. We need a guy like him in the fight against swine flu," Chan said.
Many of Yaung's friends and former coworkers said he was a "person with good communication abilities."
DOH officials also felt his charm on his first day on the job.
"He is a nice guy," a senior official at the DOH said on condition of anonymity. "I've never seen him angry — and I've known him since he was deputy minister several years ago. He was always patient when explaining things."
Publication Notes
Department of Health Minister Yaung Chih-liang
• Place, date of birth: Taipei City, 1946
• BA in Health Education, National Taiwan Normal University, 1968; MA in public health, National Taiwan University (NTU) in 1972; PhD in public health, University of Western Michigan, 1979
• Taught at NTU's Department of Public Health 1972-2001 and at Asia University since 2001
• Director of NTU's Department of Health, 1984-1987
• Convener for the National Health Insurance scheme, 1988-1990
• Department of Health vice minister, 1998-2000, and vice president of Asia University since 2001
Comments will be moderated. Keep comments relevant to the article. Remarks containing abusive and obscene language, personal attacks of any kind or promotion will be removed and the user banned. Final decision will be at the discretion of the Taipei Times.