MORAKOT: THE AFTERMATH: Therapists called in for victims, rescuers
STRESS After criticism that troops had been ordered to 'sniff' for bodies, the army ceased the practice and said troops would have mental health checks
As post-Morakot relief, rescue and clean-up efforts moved into their 12th day yesterday, retrieval of body parts, the distribution of cash aid and provisions to take care of the mental health of the victims, as well as rescue work, topped of the list.
Clad in biochemical protective suits and masks, yesterday morning two dozen soldiers from Army Troop 542 traversed the rapid Nantzuhsien River (楠梓仙溪) to the site of Jiaxian Township's (甲仙) Xiaolin Village (小林), Kaohsiung County, to retrieve three bodies that were discovered on Tuesday.
Recovery of the victims was difficult because the dead were buried under between 3m and 10m of mud and rocks from the mudslides caused by Typhoon Morakot on Aug. 8.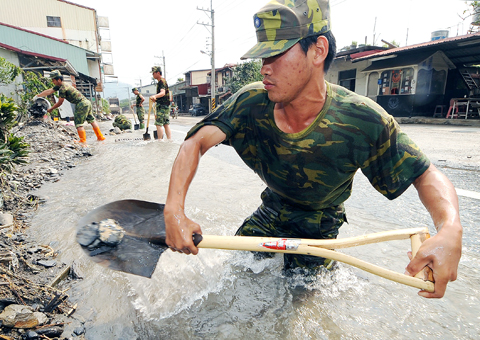 A soldier helps clean up Hsinfa Village in Liukuei Township, Kaohsiung County, yesterday.
PHOTO: LIAO CHEN-HUEI, TAIPEI TIMES
Because of poor weather conditions, the bodies, as well as some 30 others that had been sighted on Tuesday, could not be retrieved and carried across the river until yesterday.
In response to criticism that some soldiers had been ordered to search for bodies by kneeling on the ground and sniffing for rotting flesh, the Army's Eighth Troop Director of Political Warfare Hu Jui-chou (胡瑞舟) told a press conference that three search and rescue dogs, five sets of flammable gas detectors, three ground-penetrating radars and three methane detectors, provided by other government agencies, would be employed in future retrieval work.
Local media reported that some soldiers had developed psychological problems after sniffing for the dead. One female solder was quoted by local media as saying that since she did not know what a corpse smelled like, another soldier had taken her to a corpse that had been dug up so that she could identify the "death smell."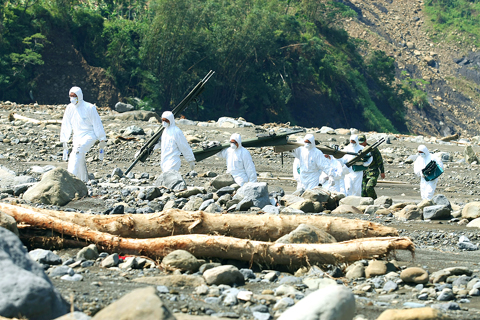 Soldiers carrying tools and equipment walk toward Xiaolin Village in Jiaxian Township, Kaohsiung County, yesterday to search for victims of landslides.
PHOTO: CNA
"The soldiers who performed rescue work by sniffing for bodies will be given physical and mental health checks soon," Hu said.
The Ministry of Education said that it had summoned 190 certified mental health therapists to come to the aid of the thousands of school children traumatized by the storm.
"A number of children are already showing signs of acute stress disorder or post-traumatic stress disorder," said Wu Song-lin (吳松林), director of the Student Counseling Center at National Kaohsiung Normal University, who doubles as the head of the education ministry's Southern Taiwan Counseling Center.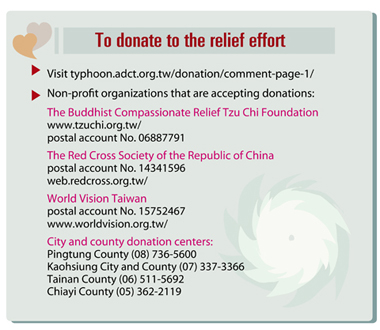 Play therapy, music therapy, or role playing would be employed to help the children, Wu said, adding: "We will first arrange for group counseling sessions for all affected teachers and students, and then provide further assistance to students who show signs of mental health problems."
Meanwhile, the Ministry of Justice's Institute of Forensic Medicine and Investigation Bureau said its forensics experts had so far tested 21 DNA samples taken from bodies and identified five bodies of victims of the typhoon.
Local prosecutors' offices are urging those who have missing family members to have their DNA samples taken in order to aid them in identifying those who died in the disaster.
Meanwhile, Pingtung County Government yesterday began distributing cash relief to victims in community centers and shelters around Linbian Township (林邊) and Jiadong Township (佳冬), one of the worst affected regions.
The aid, which includes a NT$10,000 consolation fund and a NT$20,000 flood subsidy for every household, would be given to a total of 8,306 families, the government said, adding that those without identification documents could still receive money if a township, village or borough government employee could identify the person.
ADDITIONAL REPORTING BY SHELLEY HUANG AND AGENCIES
Comments will be moderated. Keep comments relevant to the article. Remarks containing abusive and obscene language, personal attacks of any kind or promotion will be removed and the user banned. Final decision will be at the discretion of the Taipei Times.