MORAKOT: THE AFTERMATH: Liukuei survivors share tales of death and rescue
"We counted the number of people taking refuge every day after the disaster to make sure everyone was safe, but we were unable to account for 32 people," said Chiu Chin-feng (邱錦豐), who works as an operator of an excavator.
Chiu told his story after being rescued from Liukuei Township's (六龜) Hsinkai Community (新開部落) on Wednesday.
Chiu, who was the first of the victims to be rescued in a transport cage over the raging Laoneng River (荖濃溪), confirmed that there had been 32 fatalities in the community after the mudslides last Saturday.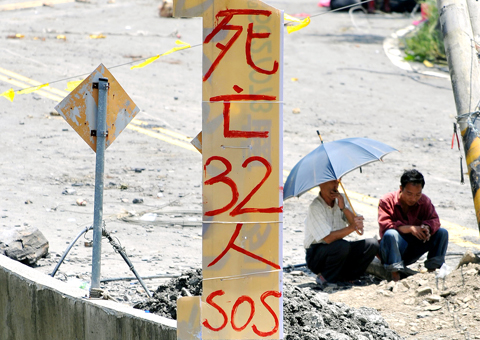 A placard set up by local residents reads "32 people killed, SOS" as they wait to be rescued in Liukuei, Kaohsiung County, yesterday.
PHOTO: SAM YEH, AFP
On Tuesday, Pan Hsing-pei (潘星貝), a community official, informed Liukuei Township Chief Lin Chun-chieh (林俊傑) of the death toll by delivering a note using a slingshot because the Hsinfa Bridge (新發橋), the only way out of the community, had collapsed.
The mudslide victims also put up a piece of cardboard on their side of the bridge with the message "32 people killed, SOS," to inform rescue teams about the situation.
Chiu said he was helping residents of the community clear away mud when the landslides hit at about 8:45pm last Saturday.
Houses nearby fell like dominos as they were wiped out by the landslides, Chiu said.
He rushed to Pan's house after narrowly escaping the landslides, but he was too terrified to sleep that night, Chiu said.
Some Liukuei residents who participated in rescue work had been able to reach the community on Wednesday, but they found that the mudslides were chest deep and they said they could smell dead bodies under the mud.
Chen Jung-kun (陳榮坤), a resident living in Hsinfa Village (新發村), also had a brush with death.
The mudslides induced by days of torrential rain wiped out Chen's house at about 6pm when he was cooking for his 85-year-old mother.
Chen was immediately trapped in the mud, but he managed to crawl out after a long struggle, he said.
His mother was not as fortunate.
Chen said he could only look back at his mother's room and say: "I'm sorry. I have to escape first."
With only a pair of underpants on, he managed to get help.
Later, he and three friends returned and spent three days digging out his mother's body with their bare hands.
When he saw his mother's body, Chen could no longer hold back the tears.
ADDITIONAL REPORTING BY CHEN WEN-HUI AND HUANG HSU-LEI
Comments will be moderated. Keep comments relevant to the article. Remarks containing abusive and obscene language, personal attacks of any kind or promotion will be removed and the user banned. Final decision will be at the discretion of the Taipei Times.