FEATURE: More youth undergoing cosmetic surgery over summer
GOODBYE 'FLAWS' Beauty clinics say more kids want procedures, but the Teacher Chang Foundation says youth shouldn't be encouraged to have plastic surgery
Instead of spending money on buxibans or traveling, many students are using the summer break to get beauty treatments and plastic surgery.
Cosmetology and plastic surgery clinics are reporting an increase in the number of student clients since the summer break began.
The Plastic Surgical Association of the Republic of China and the Taiwan Society of Aesthetic Plastic Surgery, two professional associations that represent certified aesthetic doctors and plastic surgeons respectively, said it was impossible to get an accurate estimate of how big the market is and how much it grows each year, mainly because such treatments are not covered by the National Health Insurance.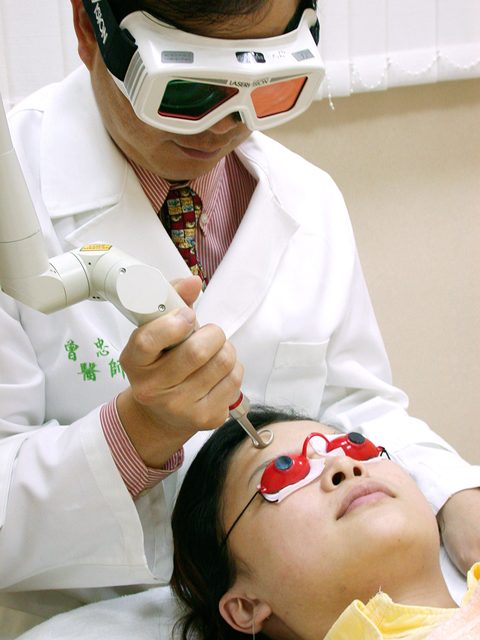 A young woman receives cosmetic surgery in Taipei yesterday. More students have been using summer vacation to go under the knife in pursuit of beauty, clinics say.
PHOTO: CNA
Individual beauty clinics, however, are reporting year-on-year increases in the number of youths undergoing cosmetic procedures, with the figure doubling last month over previous months.
"Business in cosmetic procedures has surged in July and August because of the increasing number of student customers — whether they are from Taiwan or abroad," said Tseng Chung-ren (曾忠仁), a dermatologist who owns a medical cosmetic center and clinic in Taipei.
Tseng said students normally constituted 20 percent of his clientele, but that the figure had jumped to 40 percent over the summer, while another 20 percent to 30 percent are students from abroad and the remaining customers are mostly Taiwanese women aged 25 to 45.
Chao Tzi-kang (趙子康), the director of a beauty clinic in Taipei's Ximending district (西門町), a shopping district popular with students, also reported the trend.
Chao said student customers generally increase every summer during the break, as it provides enough time for students or new graduates to recover from the procedures before entering a new school or starting a job.
Tseng and Chao claimed people were increasingly concerned with their physical appearance because of the increasingly competitive job market.
The economic downturn is prompting people to acquire what they consider more advantageous features and get rid of what they may feel are blemishes or imperfections, to improve their chances of getting hired.
"Patients come to have cosmetic treatment for a better look and to boost their confidence. The patients are getting younger and younger," Tseng said.
Even the number of elementary school students being brought by their parents for simple treatments such as mole removal has increased, he said.
Young patients go for different treatments depending on their age. Mole and birthmark removals are common for elementary school students. Acne treatments and scar and tattoo removals are popular with high school students.
Among university students, hair removal, blepharoplasty (double eyelid surgery) and micro-plastic surgery, including botox and rhinoplasty using hyaluronic acid, are in demand, Tseng said.
Hair removal procedures, especially the removal of leg hair for women, and armpit odor treatments, are particularly popular among the university crowd, Tseng said.
Students studying abroad opt for cosmetic treatments when they come home for the summer because of lower costs, Tseng said, adding that procedures could cost ten times as much in Western countries.
An increasing number of young men are also having cosmetic procedures, Chao said, adding that 40 percent of his patients under the age of 20 are male and most come for skin treatments.
"I find that many young, male patients are more open-minded than before and will even make more of an effort than before to look after their skin following the procedures," Chao said.
However, Lin Shih-li (林世莉), a spokeswoman for the Teacher Chang Foundation, a civic counseling group for teenagers, said plastic surgery should not be encouraged among young people because they are not mature enough to make such decisions and are easily pressured by images in the media, pop culture and peer pressure.
Parents play an important role in guiding their children, she said.
"Your self value is not about the beauty of your appearance but rather determined by the confidence and self-esteem gained through interactions with others and being a responsible person," Lin said.
"As your external beauty fades over time, your overall character, which represents who you really are as a person, becomes the charisma that will last forever," she said.
A college senior surnamed Lin said he underwent a series of laser acne-scar removals because his scars had bothered him for a long time.
"I decided I had had enough and had to get rid of them," said Lin, who was in the final stage of his treatment.
Lin said he used to feel ashamed and avoided talking to friends for fear that they would stare.
Lin's father, who is paying for the course of six treatments, which cost a total of around NT$100,000, said he supported his son's decision.
"My son feels that the procedures will help him look better and be more confident and I think it is okay to do so, as long as it is safe," Lin's father said.
Chao said more parents are bringing their children to have moles and birthmarks removed because they are paying greater attention to their children's looks.
Some parents are also concerned their children worry about their "flaws" but are unwilling to say so.
"From a professional point of view, it is good that many parents let their children have the procedures while they are still young, since most of the moles or birthmarks should be removed sooner rather than later," Chao said.
Both Chao and Tseng suggested patients do research before undergoing plastic surgery.
Cosmetic treatments are not always safe or satisfactory, said Hung Chia-huei (洪嘉徽), an official with the Plastic Surgical Association.
She said that among the complaints her group receives from cosmetic surgery patients, most are related to disappointment with a treatment's outcome or to disputes with the clinic over the cost of the procedure, especially in a market where prices vary widely among clinics.
The organization, however, has no power to govern beauty clinics or punish doctors guilty of malpractice who do not belong to the organization, Hung said.
It can only refer patients to the Department of Health, she said.
Comments will be moderated. Keep comments relevant to the article. Remarks containing abusive and obscene language, personal attacks of any kind or promotion will be removed and the user banned. Final decision will be at the discretion of the Taipei Times.