Sky gazers fill the streets to see rare eclipse
Armed with digital cameras, special observation glasses or even telescopes fitted with ultraviolet ray filters, thousands of people yesterday climbed rooftops, stood on streets and gathered in schoolyards to witness the century's longest solar eclipse.
The moon began to eclipse the sun at 8:23am yesterday, covering about 85 percent of it at 9:40am and passing the solar disc completely by 11:05am.
Though only a partial eclipse was viewable in Taiwan, while other parts of Asia were treated to a total eclipse, thousands of people lined up at Liberty Square before 8am yesterday to get free observation glasses.
A partial solar eclipse is pictured through windows at Taiwan Taoyuan International Airport yesterday.
PHOTO: REUTERS
"I came with my mother because the next time we will be able to see a ... solar eclipse in Taiwan will be in 2070, when I am 68 years old," first-grader Jimmy Chang (張力偉) said.
Flocks of people stepped out of their offices at around 9am to gaze at the sky. While many aimed digital cameras or cellphones at the diminishing solar disc, others asked passersby to borrow their observation glasses.
"I have been reading the news about this solar eclipse for days, and it is very exciting to finally see it! It's a miracle in the sky," 32-year-old Taipei resident Huang Li-wen (黃麗雯) said on Heping Road.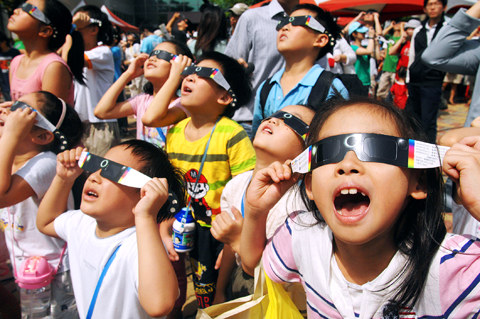 Children watch the solar eclipse through protective glasses in Taipei yesterday.
PHOTO: AFP
Chang Hsiang-kuang (張祥光), a professor at National Tsing-hua University's departments of astronomy and physics, who led a group of elementary school students and their parents to observe the celestial phenomenon, said one of his colleagues had gone abroad six times to view total solar eclipses.
Meanwhile, thousands of visitors packed the Taipei Astronomical Museum yesterday to watch the eclipse.
The museum filled up early in the morning, museum officials said, adding that some people had taken the day off work to watch the eclipse.
As Taiwan did not fall within the narrow corridor where a total eclipse was visible, the Taipei Astronomical Museum, in collaboration with observation stations in China's Shanghai, Chongqing and Suzhou, streamed live Internet images of the total eclipse.
But the museum's Web site crashed repeatedly as visitors flooded it to watch the footage.
The Central Weather Bureau said the eclipse caused temperatures to drop nationwide by between 0.5ºC and 1ºC between 9am and 10am.
ADDITIONAL REPORTING BY SHELLEY SHAN
Also See: Some celebrate, others hide during total solar eclipse
Comments will be moderated. Keep comments relevant to the article. Remarks containing abusive and obscene language, personal attacks of any kind or promotion will be removed and the user banned. Final decision will be at the discretion of the Taipei Times.