Ma downplays need to meet Chinese president
HAWAII HOPOVER Ma said signing an ECFA was more important than meeting Hu Jintao and that no peace talks would occur unless Beijing removed its missiles
Signing an economic cooperation framework agreement (ECFA) with Beijing is more important than meeting Chinese President Hu Jintao (胡錦濤) in person, President Ma Ying-jeou (馬英九) said at an academic forum in Hawaii on Sunday.
Speaking at the University of Hawaii, Ma said there was no urgent need for a sit-down meeting with Hu at the moment because inking the hotly contested trade pact with Beijing was the most important step in improving cross-strait relations.
It has been widely speculated that Ma, who is the sole candidate in the Chinese Nationalist Party (KMT) chairmanship race, intends to become KMT chairman so that he can meet Hu in China in his capacity as party leader, rather than as president.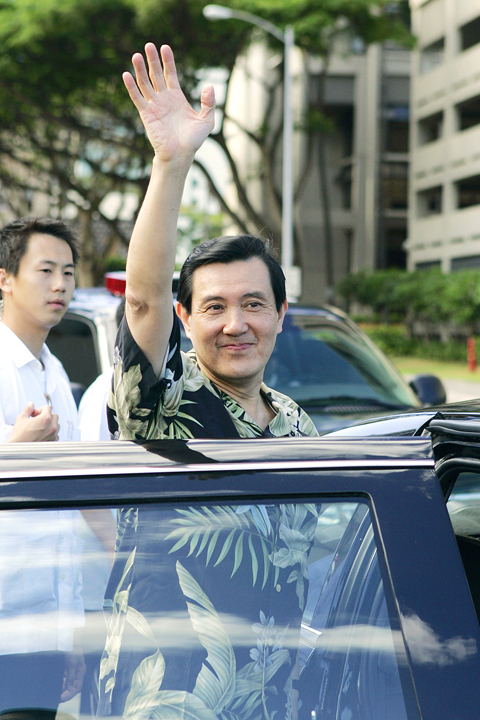 President Ma Ying-jeou waves as he leaves the Chinese Cultural Plaza in Honolulu, Hawaii, on Sunday.
PHOTO: AP
During his address, the president also said that no talks on a peace treaty would take place unless Beijing first agreed to remove the 1,500 missiles pointed at Taiwan.
When asked about increasing cultural exchanges across the Strait, Ma said that more interaction between younger generations would be mutually beneficial and that Taiwan welcomes Chinese students to study in Taiwan.
American Institute in Taiwan Director Raymond Burghardt also touted Ma's "diplomatic truce" policy — an unspoken understanding with China that both sides would not attempt to lure away each other's allies with big financial packages — and said that US-Taiwan relations had greatly improved since he took office in May last year.
The visit marks the first time that Ma made public appearances in the US as president.
After a breakfast meeting with Hawaiian Governor Linda Lingle, the president and first lady Chow Mei-ching (周美青) visited Pearl Harbor and the Revive China Society, an association set up by Sun Yat-sen (孫中山).
Ma stopped over in Honolulu on his way back from his Latin American tour. He was expected to return to Taipei at 11pm last night.
In related news, legislators across party lines yesterday urged the Ministry of Foreign Affairs (MOFA) to review the nation's relations with Nicaragua after Nicaraguan President Daniel Ortega failed to show up on a number of occasions to accompany Ma.
"[We] should put aside our negative emotional reaction [to Ortega's no-shows] and review the ties and cooperation between Taiwan and Nicaragua, such as what we can do and what they should do to repay [our friendship]," Democratic Progressive Party (DPP) Legislator Huang Wei-cher (黃偉哲) told reporters.
Huang said that recalling the nation's ambassador to Nicaragua would not solve the problem.
Chinese Nationalist Party (KMT) Legislator John Chiang (蔣孝嚴), a former minister of foreign affairs, said that the Nicaraguan Ministry of Foreign Affairs and Ortega, rather than Taiwan's ambassador to Nicaragua, should be blamed.
"We have done everything we can to help [Nicaragua]. It is unacceptable and intolerable for [Ortega] to treat [Ma] this way during his visit," Chiang said.
"We should put [relations between Taiwan and Nicaragua] on the watchlist," Chiang said.
KMT Legislator Alex Fai (費鴻泰) also supported the idea, adding that it would be necessary to review relations. The lawmakers' comment came after Ortega failed to meet Ma at the airport when Ma arrived in Managua on Friday morning and skipped a state banquet at which he was supposed to host Ma later the same day. Chiang had suggested that Taiwan recall its ambassador to Nicaragua to protest against Ortega's behavior. But a senior foreign affairs official said on Sunday that Taiwan would not do so after Ortega apologized to Ma.
The official said Ma had expressed concern regarding Ortega's absence, but accepted Ortega's explanation that he could not make it because he was in discussions with exiled Honduran President Manuel Zelaya, who was in Nicaragua at the time, on the situation in Honduras.
Diplomatic ties between Taiwan and Nicaragua will not be affected, the senior official said. But DPP caucus whip Chai Trong-rong (蔡同榮) said the government should review its "diplomatic truce" strategy after the perceived snubs on Friday.
Chai told a press conference that since Ma began his truce, the country's diplomacy has been neglected.
Chai said Ma should shoulder the responsibility for the diplomatic setback and offer an apology to the nation.
Chai added that former president Chen Shui-bian (陳水扁) knew Ortega was close to China and that Taiwan's diplomatic ties with Nicaragua were in danger, so Chen spent time cultivating a good relationship with Ortega and was able to maintain diplomatic ties.
But since Ma came to power, Chai said, he has neglected forming good relations with Ortega, leading to the diplomatic incident.
Ma must realize his diplomatic truce is failing, Chai said.
DPP Legislator Yeh Yi-chin (葉宜津) said the government had threatened to punish Ortega by suspending NT$20 billion (US$600 million) in promised aid, but that would only give the international community the impression that Taiwan practiced checkbook diplomacy.
DPP Legislator Wang Sing-nan (王幸男) said Ortega's absence not only insulted Ma, but all Taiwanese. Ma and MOFA should apologize over the incident, Wang said.
ADDITIONAL REPORTING BY RICH CHANG
Comments will be moderated. Keep comments relevant to the article. Remarks containing abusive and obscene language, personal attacks of any kind or promotion will be removed and the user banned. Final decision will be at the discretion of the Taipei Times.