Vice president released from hospital, returns to work
Vice President Vincent Siew (蕭萬長), who had two tumors removed from his lung, checked out of the hospital yesterday and was planning to return to work today.
The Presidential Office issued a statement yesterday saying Siew was recuperating well and would be back to his normal work schedule today.
Siew will also receive targeted therapy, the statement said, adding that he thanked both the Taipei Veterans General Hospital for the doctors' professional diagnosis and care as well as well-­wishers for their concern. Siew said he would do his best to accomplish the tasks assigned by President Ma Ying-jeou (馬英九), the statement said.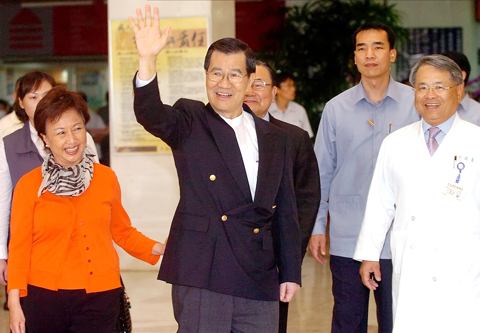 Accompanied by his wife Susan Chu, left, Vice President Vincent Siew waves to supporters as he leaves the Taipei Veterans General Hospital yesterday. Siew had an operation to remove malignant tumors from his left lung on May 20.
PHOTO: CHU PEI-HSIUNG, TAIPEI TIMES
The tumors were found in Siew's lung during a magnetic resonance imaging scan on April 16. He underwent surgery on May 20.
The hospital said yesterday that Siew was scheduled for an X-ray in two weeks and a follow-up exam in a month.
"All the tumors were removed completely. Initially we did not think any chemotherapy would be necessary, but we decided that targeted therapy would be helpful in Siew's situation," said Hsu Wen-hu (許文虎), director of the hospital's thoracic surgery division.
Ma, who is to return from a 10-day trip to Central America today, said last Thursday he had no immediate plans to reduce Siew's workload after the 70-year-old's surgery.
ADDITIONAL REPORTING BY JIMMY CHUANG
Comments will be moderated. Keep comments relevant to the article. Remarks containing abusive and obscene language, personal attacks of any kind or promotion will be removed and the user banned. Final decision will be at the discretion of the Taipei Times.