Cross-strait situation fundamentally changed: Ma
RESOLVING CONFLICT President Ma Ying-jeou met the head of the International Crisis Group yesterday, and Wu Poh-hsiung is set to meet the Chinese president today
The situation across the Taiwan Strait has changed fundamentally, President Ma Ying-jeou (馬英九) said while meeting Gareth Evans, chief executive of the Brussels-based International Crisis Group (ICG), at the Presidential Office yesterday morning.
Ma said Evans' visit was meaningful to the country and to the region in the context of diminishing tensions across the Taiwan Strait.
The ICG is an independent, non-profit, non-governmental organization that works to prevent and resolve deadly conflict.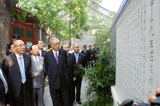 Chinese Nationalist Party (KMT) Chairman Wu Poh-hsiung, left, looks at an inscription during his visit to the Huguang Guildhall in Beijing yesterday.
PHOTO: CNA
Meanwhile, with Vice President Vincent Siew (蕭萬長) in hospital recuperating from surgery and Chinese Nationalist Party (KMT) Chairman Wu Poh-hsiung (吳伯雄) on his way to China, Ma's weekly luncheon with Siew, Wu and the heads of the executive and legislative branches of the government was not held yesterday.
Presidential Office Spokesman Wang Yu-chi (王郁琦) said Ma expressed hope at the luncheon to see more bills and legal revisions pass the legislature during this legislative session.
Bills pending approval include three green energy bills, the Organic Act of the Executive Yuan (行政院組織法), the Assembly and Parade Act (集會遊行法) and a decree on the 228 Foundation.
Wu yesterday left for an eight-day visit to Beijing. He was scheduled to meet People's Political Consultative Conference Chairman Jia Qinglin (賈慶林) last night and is expected to meet Chinese President Hu Jintao (胡錦濤) today.
The KMT chairman said before his departure that the talks would be governed by the principles of equality and dignity and that his interactions with Beijing officials would be conducted "as naturally as possible."
"If they don't mention the People's Republic of China, we will not mention the Republic of China," he said. "If they don't mention the 'one China' principle, we won't mention 'one China with individual interpretations.'"
Wu's delegation includes KMT Deputy Secretary-General Chang Jung-kung (張榮恭) and three KMT deputy chairmen — Lin Feng-cheng (林豐正), Wu Den-yih (吳敦義) and John Chiang (蔣孝嚴).
Meanwhile, the president yesterday conferred a medal on Taipei European School CEO John Nixon for his effort to promote ­Taiwanese and European culture.
Ma honored Nixon with the Order of Brilliant Star with Grand Purple Cordon for integrating German, British and French educational systems and establishing the Taipei European School, Ma said.
The school offers three different European curriculums for students from the ages of 3 to 14 years and a high school program for pupils aged 14 to 18.
The school's 1,100-strong student body includes students from 61 countries.
In addition to classes presented in German, English or French, support is available for Dutch and Swedish. A Chinese language and culture program is also offered to students of all ages, as well as the opportunity to include Spanish, Korean and Japanese as language options in the international baccalaureate diploma.
ADDITIONAL REPORTING BY CNA
Comments will be moderated. Keep comments relevant to the article. Remarks containing abusive and obscene language, personal attacks of any kind or promotion will be removed and the user banned. Final decision will be at the discretion of the Taipei Times.