Dissident warns Taiwan on China
THREATENED After receiving entry permits to Taiwan, 15 Chinese academics were told by Chinese officials not to attend a conference in Taipei 'or face the consequences
Yuan Hongbing (袁紅冰), a Chinese democracy activist living in exile in Australia, yesterday warned Taiwanese to beware of the Chinese Communist Party's (CCP) "two-faced" approach to diplomacy.
Yuan made the remarks at a press conference in Taipei after 15 Chinese academics were blocked from leaving the country to take part in a conference on the development of liberalism in China, despite calls for more cross-strait cultural and intellectual exchange by the Chinese leadership.
The five-day conference, organized by Yuan's Chinese Liberal Culture Movement, National Taiwan University's Graduate Institute of National Development, National Chengchi University's Graduate Institute of Development Studies and numerous other non-governmental organizations in Taiwan, will be held in Taipei starting next Friday.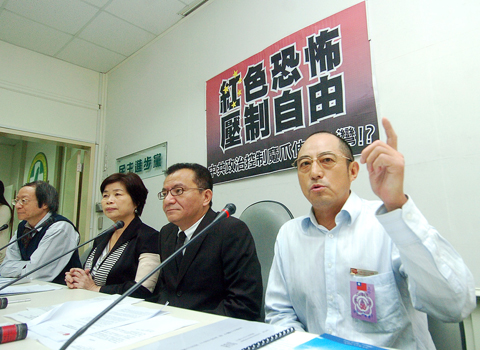 Accompanied by the Democratic Progressive Party legislative caucus, Chinese dissident Yuan Hongbing, right, warns Taiwanese to beware of the Chinese Communist Party's ''two-faced" approach to diplomacy at a press conference in Taipei yesterday.
PHOTO: WANG MIN-WEI, TAIPEI TIMES
The 15 academics were reportedly harassed and threatened by Chinese police and state security officials days after receiving their entry permits from the Taiwanese government.
In an e-mail to Yuan, which he displayed at the press conference, one of the academics said police officers had threatened they would have to "face the consequences" if they insisted on attending.
"I'm sorry, but the Ministry of State Security just advised me not to take part [in the conference] and said I would be stopped anyway if I insisted on going and get everybody in trouble," another academic wrote in an e-mail.
Yuan did not reveal the identity of the academics, for their own security.
"This is just another example of how the CCP regime deprives the Chinese people of their fundamental rights — it's up to the authorities to decide whether Chinese citizens can attend an international conference," Yuan said. "It also shows that the CCP's call for more cross-strait cultural exchanges is fake — it only allows exchanges that will give the CCP a hand in its attempt to take over Taiwan."
Yuan said he wanted to remind all Taiwanese that the CCP regime is "a group of criminals who have committed crimes against humanity, the biggest group of corrupted officials in human history and a political mafia that rips the most fundamental rights off the Chinese people and practices state terrorism to the extreme."
"If politicians in Taiwan do not have a clear understanding of the CCP, the democracy of the Republic of China and the future of Taiwanese may one day be in great danger," he said.
Comments will be moderated. Keep comments relevant to the article. Remarks containing abusive and obscene language, personal attacks of any kind or promotion will be removed and the user banned. Final decision will be at the discretion of the Taipei Times.