FEATURE: Descendents of 'Orphan Army' dream of home
THINKING OF FAMILY For Yang Wei-chie of Myanmar, the Lunar New Year during his years at university was often spent missing home and eating instant noodles
For descendents of Chinese Nationalist Party (KMT) soldiers in Myanmar and Thailand who have entered Taiwan on false passports, going home for the Lunar New Year isn't an option.
Following the defeat of the KMT in the Chinese Civil War 60 years ago, thousands of KMT soldiers who had crossed the border to Thailand and Burma (now Myanmar) were isolated there, eventually becoming known as the "Orphan Army."
Their descendants in Thailand and Myanmar — many stateless even today — often celebrate both the Lunar New Year and the Thai New Year, also known as Songkran.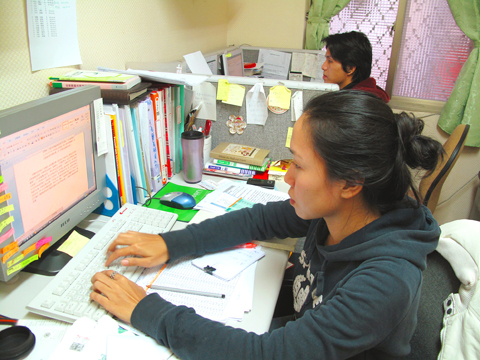 Li Mei-ping, front, and Yang Wen-chie, both descendants of Chinese Nationalist Party (KMT) soldiers in Myanmar, work in Taipei County on Jan. 3. The pair cannot go home for Lunar New Year because they entered Taiwan on fake passports.
PHOTO: LI YING, TAIPEI TIMES
Many come to Taiwan to study, and for those without legal travel documents, going home to spend the holidays with their families is too risky.
Li Mei-ping (李美萍), who has been studying at the National Taipei University of Education for eight years, entered Taiwan on a false passport from Myanmar and is concerned about returning to that country. She has prolonged her studies in Taiwan because of her concerns.
Each winter vacation, Li works part time in a restaurant, when she can earn double wages, and then remits the money to Myanmar to support her family. If time allows, she visits her Taiwanese relatives in Chungli (中壢), Taoyuan County, to spend the Lunar New Year with them.
Li grew up in an ethnic Chinese area of northern Myanmar. On Lunar New Year's Eve, families prepare elaborate meals and children gather in groups at midnight to visit the houses in the neighborhood and sing auspicious songs.
At the end of each song, the children ask for red envelopes. The atmosphere is very similar to Halloween, Li said.
On the morning of the first day of the Lunar New Year, everybody stays home to avoid bad luck. On that day it is traditional to eat vegetarian food, and the next day to eat noodles, symbolizing longevity, she said.
Yang Wen-chie (楊文傑), who was born in Kachin State in northern Myanmar, has been in Taiwan for eight years and recently graduated from National Chengchi University.
Yang said the Lunar New Year was always a trying time for him during his studies.
The dormitories emptied out as most students returned home to celebrate and the restaurants near the university all closed. Yang and his classmates from Myanmar usually spent the holiday together in the dorm feeling depressed and eating instant noodles, he said.
When asked what they missed most about celebrating the Lunar New Year at home, Yang and Li both named the spicy sausage and papaya chicken that are holiday favorites.
Yang said the Thai-Myanmar Region Chinese Offspring Refugee Service Association held functions every Lunar New Year for the descendents of Chinese in Thailand and Myanmar who live in Taiwan. Dishes such as Thai shrimp pancakes and Burmese papaya salad add a bit of holiday cheer at a time when many long for home and their families.
From April 13 to April 15, ethnic Chinese communities in Thailand and Myanmar also take part in Songkran, throwing water at passersby to symbolize washing away the previous year's bad luck.
The festival also involves covering oneself and others in scented powder and chalk: The whiter one makes oneself, the luckier they will be in the New Year, according to tradition, Li and Yang said.
Those who have water thrown on them cannot get angry but must thank the person who throws the water.
During Songkran, people have to get up early to bathe and Buddhist temples clean their statues to signify renewal in the New Year.
Comments will be moderated. Keep comments relevant to the article. Remarks containing abusive and obscene language, personal attacks of any kind or promotion will be removed and the user banned. Final decision will be at the discretion of the Taipei Times.