Chinese delegation arrives to help with monk incident
A Chinese delegation arrived in Taiwan late on Sunday to help deal with an incident in which two visiting monks from China's Linggu Temple died at a Hsinchu hotel last week.
The delegation was headed by Li Huaining (李淮寧), a Nanjing City Government department chief in charge of ethnic and religious affairs.
Members of the mission included relatives of the two deceased monks and Dharma Master Longxiang, head of the Nanjing Buddhist Association.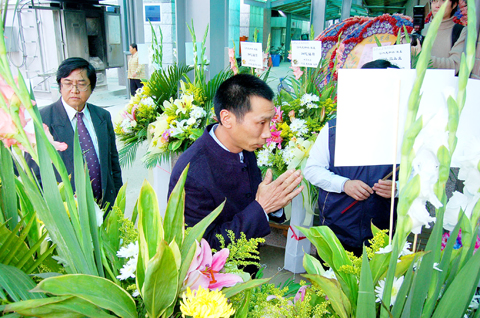 Gu Lingqing, center, the younger brother of Dharma Master Chun Ru, late supervisor of the Linggu Temple in China's Nanjing City, yesterday prays for his brother and another Chinese monk in Hsinchu City, where they died last week.
PHOTO: HUANG MEI-CHU, TAIPEI TIMES
Li said after his arrival at Taiwan Taoyuan International Airport that his group expected to get first-hand information about the incident.
He was referring to a suspected homicide-suicide case last Wednesday in which Dharma Master Jing Ran (淨然), abbot of Linggu Temple, was believed to have been killed by Dharma Master Chun Ru (純如), supervisor at the same temple, who later committed suicide.
The two deceased monks were part of a six-member group invited by the Hsuan Chuang Culture and Education Foundation, an affiliate of the private Hsuan Chuang University in Hsinchu City, to visit Taiwan on a goodwill tour.
The six-member delegation of four dharma masters and two Buddhist followers from the famous Nanjing Buddhist temple, arrived in Taiwan last Monday for a six-day visit.
Police said it appeared that Chun hit Jing on the head with a lampstand during a heated argument the day before their bodies were found.
Shocked that Jing had died from the blow, Chun appeared to have jumped to his death from the rooftop of the Hsinchu hotel where all the delegation members were staying, police said.
Meanwhile, the chief executive of the Hsuan Chuang foundation said on Sunday that postmortems were to be conducted yesterday.
If all goes smoothly, he said, a funeral would be held today and the monks' bodies could be cremated and the ashes taken back to China by family members.
The group is scheduled to return to China tomorrow, he said.
Comments will be moderated. Keep comments relevant to the article. Remarks containing abusive and obscene language, personal attacks of any kind or promotion will be removed and the user banned. Final decision will be at the discretion of the Taipei Times.