COA recalls tainted food after dogs die
RECYCLING The council said the 30 tonnes of tainted dog food would be turned into fertilizer, which it said would not have any harmful effects on agriculture
The Council of Agriculture (COA) said yesterday it would recall a batch of allegedly contaminated dog food that may have recently poisoned several hundred stray dogs.
Two dog pounds in Taipei County said they noticed problems with the dog food last month when about 400 stray dogs died because of jaundice.
The dog food was sent to the council's Animal Health Research Institute for testing. On Dec. 22, the institute discovered it contained high levels of aflatoxin, a toxic and highly carcinogenic substance that induces immunosuppression in animals.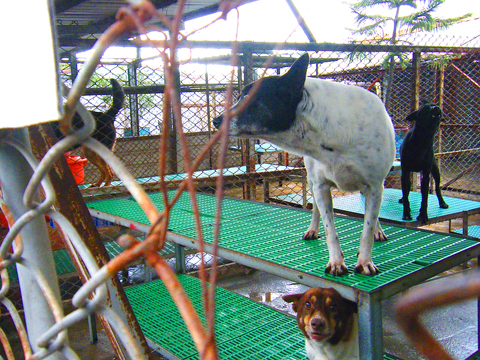 Stray dogs are pictured at the Animal Protection Association's dog pound in Bali Township, Taipei County, yesterday.
PHOTO: CNA
The council called a press conference yesterday to announce that the 30 tonnes of recalled dog food would be gathered at a factory in Yunlin County to be turned into fertilizer, and said the fertilizer would not have any harmful effects on agriculture.
The COA said the dog food was manufactured by Ji-tai Forage Co (吉泰飼料廠).
Two dog pounds under the Animal Protection Association of the Republic of China received about 20 tonnes of the contaminated dog food, affecting about 400 stray dogs, the COA said.
Ji-tai made the dog food using aflatoxin-contaminated corn that it had imported from Pakistan last January.
Aside from manufacturing dog food with contaminated corn, Ji-tai also produced pig feed with the material, but the Yunlin County Government has conducted random checks and found no problems with it.
Ji-tai assistant manager Chen Yen (陳艷) issued a public apology to all those affected by the contaminated dog food and promised to take responsibility for the incident, as well as cooperate with the COA in the examination and recall process.
Ji-tai said the public need not worry about buying the contaminated dog food because it only distributed the batch to certain dog pounds in northern Taiwan and did not sell it to retail stores.
However, the council said that those who have purchased questionable dog food can ask for refunds from Ji-tai or Taiwan Champion Pet Products (台灣寵物用品有限公司). If pets exhibit abnormal health conditions, pet owners should notify local animal health bureaus immediately, the council said.
Comments will be moderated. Keep comments relevant to the article. Remarks containing abusive and obscene language, personal attacks of any kind or promotion will be removed and the user banned. Final decision will be at the discretion of the Taipei Times.