TransAsia debuts flight to northeastern China
COMING SOON The company said the charter flight's passengers were mainly travelers heading to China, but that it was tapping into the market of Chinese tourists
TransAsia Airways (復興航空) yesterday launched its direct charter flight service to Dalian in China's Liaoning Province, marking the nation's first flight to northeastern China.
The company also hosted a ceremony in celebration of the pilot flight at the Taipei Songshan Airport yesterday morning.
"Dalian is the gateway to the three provinces in China's northeast region," said Tien Ti (田地), TransAsia's general manager, "It is the home of more than 1,200 Taiwanese companies, with a majority of them being in the information technology industry. It is also known for its tourism resources."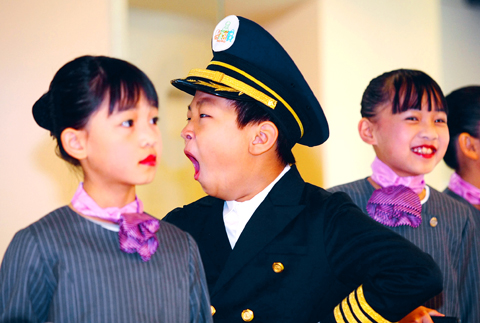 A child dressed as a pilot yawns during a press conference at Taipei Songshan Airport yesterday.
PHOTO: HSU CHAO-CHANG, TAIPEI TIMES
Dalian Deputy Mayor Dai Yulin (戴玉林), who arrived on Saturday on a Hainan Airlines charter flight, also attended the ceremony yesterday. Dai had been to Taiwan twice previously.
"Each time, it took about 10 hours to arrive, including the time spent on flights and transferring, which is really tiring and troublesome," he said. "This time it took only three hours."
Dai said a Dalian travel agency was expected to be approved by the government soon to start organizing tour groups to Taiwan. The direct charter flight service will make it easier for people in Dalian to visit Taiwan, he said, adding that he estimated the first tour group from Dalian would arrive before the Lunar New Year.
Currently, TransAsia only offers a round-trip charter flight to Dalian each Sunday. The flight is scheduled to leave for Dalian at 8am every Sunday and return to Taipei at 4pm on the same day.
For now, the company said that the charter flight's passengers were mainly travelers heading to northeastern China, but that it was tapping into the market of Chinese tourists.
Aside from TransAsia, Mandarin Airlines (華信航空) also launched its pilot flight from Taichung to Hangzhou in Zhejiang Province yesterday.
The Civil Aeronautics Administration said that Shanghai remained the most popular destination among the nation's airlines, with charter flights topping 41 per week. It is followed by Hangzhou and Shenzhen in Guangdong Province, with weekly charter flights to both cities totaling 14 and 13 respectively.
In related news, the Tourism Bureau is scheduled to announce this week new regulations governing the management of Chinese tourists.
Significant changes include reducing the minimum number of tourists needed to make a tour group from 10 to five and increasing the travel days from a maximum of 10 days to 15 days.
Comments will be moderated. Keep comments relevant to the article. Remarks containing abusive and obscene language, personal attacks of any kind or promotion will be removed and the user banned. Final decision will be at the discretion of the Taipei Times.